An Inside View Into Winning Daily Fantasy Sports DraftStreet Lineups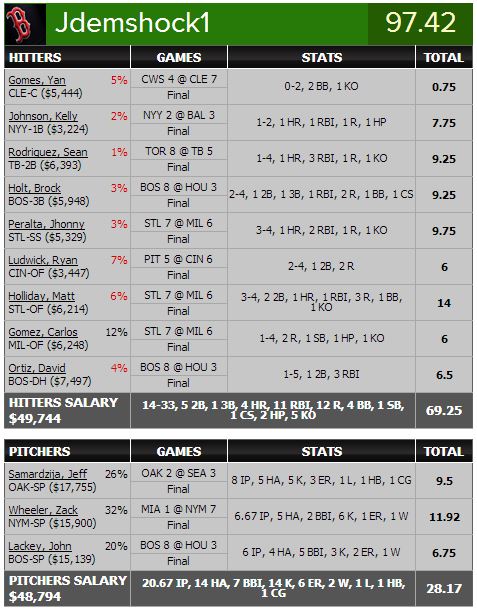 As the 85th Major League Baseball All-Star Game in Minnesota on July 15th graces us with its presence there is no question the sport is alive and well in America.  As pennant and playoff races heat up ball parks and newly invented automatic beer dispensers cool down stadiums there is no better time then now to enjoy your favorite players and teams exploits.  Want to feel like you are part of the MLB baseball action regardless of if you are at the game or at home?  Making a few daily fantasy sports lineups is a great way to further enjoy baseball as a sport while giving yourself a chance for potential payouts and profits.
One of the best ways to hit the ground running when it comes to daily fantasy sports is to evaluate what the elite players are doing.  If you want to reach the peaks of performance in daily fantasy sports studying winning lineups is a great foundation to build from.  By researching and reviewing the top ranking daily fantasy sports players and lineups we can hopefully increase our edges over the the competition.  This Week we dissect Draft Street's top lineup from Friday July 11th 2014.  Scoring a total of 97.42 points it is player "Jdemshock1" winning daily fantasy sports lineup that we look at.
Pitchers (P) – Pitchers were Jeff Samardzija, Oakland A's ($17,755), Zack Wheeler, New York Mets ($15,900), and John Lackey, Boston Red Sox ($15,139).  Balanced pricing and pitching seemed to be the approach this week.  A pitching trend that continues from last week is finding a higher priced pitcher that can last for extended innings.  Winning lineups are revealing that average innings pitched is a great indication of potential point scoring power.
Catcher (C) – Catcher was Yan Gomes, Cleveland Indians ($5,444).  An interesting choice at catcher as Yan was late substituted for the night before and does not hold a great lineup spot for the price.  We saw a cheaper catching option payoff last week while the mid range priced catcher this week in Gomes seemed to have failed to live up to expectations only scoring 0.75 daily fantasy sports.  High price catchers with good stats and lineup spots and cheap catchers may want to start falling higher on the radar of advantage plays. 
First Base (1B) – First baseman was Kelly Johnson, New York Yankees ($3,224).  Great value play.  It seems like every lineup we have reviewed has one or two very solid low priced players. 
Second Base (2B) – Second baseman was Sean Rodriguez, Tampa Bay Rays ($6,393).  Not on any hot hitting streaks this was a bit of an enigma lineup pick.  This was either a pitching match up or feel pick that paid off. 
Third Base (3B) – Third baseman was Brock Holt, Boston Red Sox ($5,948).  Great leadoff hitter for the price.  Also one of the only third baseman that bats high in the lineup so always worth a look.
Shortstop (SS) – Shortstop was Jhonny Peralta, St Louis Cardinals ($5,329).  A fairly priced shortstop who hits with nice power in the middle of the lineup is often a great value play and tonight that certainly was the case.. 
Outfielders (OF) – Outfielders were Ryan Ludwick, Cincinnati Reds ($3,447), Matt Holiday St Louis Cardinals ($6,214) and Carlos Gomez, Milwaukee Brewers ($6,246).  Much like the rest of lineup the majority of the outfield fell into the mid tier price range.  The same as first base this week another great value play was also found in the outfield. 
Utility (U) – Flex position was David Ortiz, Boston Red Sox ($7,497).  In an interesting move the flex position was used as the most expensive player slot.  This may be an angle we want to utilize when building winning lineups similar to this weeks top scoring daily fantasy sports team on Draft Street.
Draft Street player "Jdemshock1" took a much different approach to lineup building then last weeks winner "xandamere".  Not focusing on any particular team, the winning daily fantasy sports strategy this Friday seemed to target mid value players that have the potential to reach the point scoring of high priced talent.  A lot of higher lineup hitting medium priced batters were selected highlighting one of the strongest features of this weeks winning lineup.  What did you find most interesting about this Friday's Draft Street top scoring daily fantasy sports team?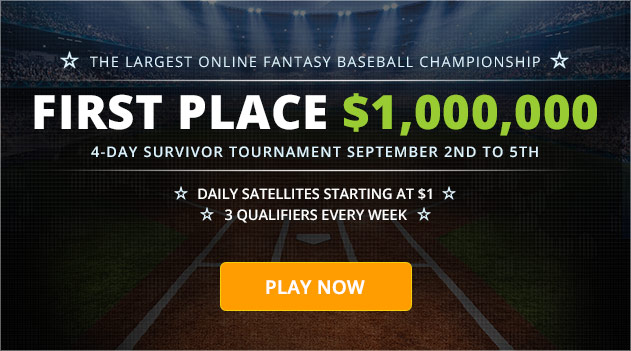 This Week In Baseball History:
July 10, 1934 is one of the most memorable dates in All-Star Game history.  Host to one of the greatest All-Star Game pitching performances of all time, this day witnessed Carl "The King" Hubbell struck out five consecutive future Hall of Famers, Babe Ruth, Lou Gehrig, Jimmie Foxx, Al Simmons and Joe Cronin.  Showcasing a mesmerizing and demoralizing screwball Hubbell would later go onto win the Seagram's crown for winning 24 consecutive decisions in 1936 and '37 further cementing his greatness in baseball lore.