As we head into the final 10 days of the Blue Jays' stay in Florida, there a couple of areas of concern.
For one, the Jays haven't scored more than five runs in 13-straight games. Of course, in the spring, the full everyday line-up is rarely together for more than  a couple of games a week and even then, only a few innings at a time. Ryan Goins, for all he is capable of doing with the glove at second base, is only hitting .168 at last glance. Brandon Morrow, counted on so heavily this season, has had trouble commanding his four-seam fastball and has seemingly been dropped to the number-five slot in the rotation.
On the flip side of that, Drew Hutchison has looked so good that he has been elavated to the number-two  position in the rotation between R.A Dickey and lefty Mark Buerhle. Closer Casey Janssen started camp with should soreness, but he apppears to be doing well, throwing on the side and assures everyone he will be ready for opening day, despite not having seen any game action yet. J.A. Happ's sore back seems to be coming around and he's been slotted in again as the number-four starter.
The Jays' Grapefruit Circuit record is only 7-10, but those records are rarely an indication of how a team is going to do in the regular season. A year ago, the Jays were 16-17 in Florida, yet only won 74 games for the 2013 campaign. St. Louis won the National League pennant after going just 16-15 in the spring. The Boston Red Sox played .500 ball in the sunny south at 17-17 in its first year under skipper John Farrell and then went on to beat the Cardinals in the World Series.
The most exciting aspect of spring training is watching the breakout performances of young players, as is with the case of the Jays' Drew Hutchinson this spring. The rest of it is just about hoping your team can open the season healthy and can come close to living up to expectations.
Some of the National League's better clubs haven't escaped the injury bug, either. Atlanta Braves starter Kris Medlen likely needs his second Tommy John and Brandon Beachy could also be on track for his second. The Braves are also keeping a close watch on Mike Minor's shoulder. Arizona Diamondbacks ace lefty Patrick Corbin is currently seeking a second opinion on whether or not he needs Tommy John. If that isn't bad enough for the D-Backs, the recently signed Bronson Arroyo, an iron man with the Cincinnati Reds, is out indefinately with a disc problem in  his back. The Philadelphia Phllies, of course, lost Roy Halladay to retirement. Now their number-one starter, Cole Hamels, is dealing with left shoulder fatigue. Though he's starting to feel better throwing on the side, there is no guarantee Hamels will be ready for Opening Day.

Cole Hamels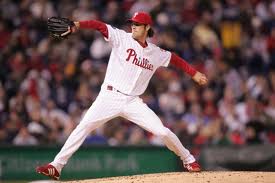 We talked about a lot of the pitching injuries, but this one appears to be both serious and mysterious. Tigers shortstop Jose Iglesias, a key pick-up from Boston in a three-way deal last season, has a severe case of shin splints in both legs caused by a problem with his feet. He could miss a large chunk of this season, maybe even the entire season, leaving Detroit without a legit number-one shortstop.
It's not exactly a Babe Ruth-ian differential, but the Baltimore Orioles' Chris Davis had indeed a special season in the home run department last year. Davis's MLB-best 53 homers was nine better than American League runner-up Miguel Cabrera of the Tigers and 17 up on the National League co-leaders Pedro Alvarez of the Pittsburgh Pirates and the D-Backs' Paul Goldschmidt at 36. The last time that happened was 2010, when the Blue Jays' Jose Bautists slugged 54 homers, 15 more than AL runner-up Paul Konerko of the Chicago White Sox at 39 and 12 more than NL leader Albert Pujols, then of the Cardinals, at 42.