Delmon Young's past success verse Mark Buehrle has him as a sleeper for Tuesday August 5th! Young, currently a platoon player for the Baltimore Orioles continues to produce for the team when called upon including last night with his pinch hit to put the team up for good against the Washington Nationals.

Delmon Young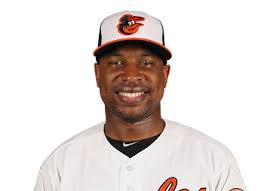 Tonight we expect Young to be in the lineup for the Orioles as they take on the Toronto Blue Jays at the Rogers Centre. In his career against Buehrle, Young is hitting .396 in 48 career at bats, including four home runs and eight runs batted in. This season Young has picked up four hits in six at bats verse the Blue Jays starter with one home run and two runs batted in.
Young is just one of a few Orioles you could consider starting tonight. Here is a list of some solid fantasy plays for tonight August 5th.
Nick Markakis, Oufielder: In 46 career at bats verse Buehrle, Markakis has 20 hits, including seven that have gone for extra bases. The Orioles outfielder also has picked up seven runs batted in and four walks.

Nick Markakis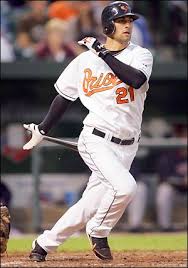 Chris Davis, First Baseman: Davis is a gamble, but his cost is slowly dropping so it could be a good play as he has had past success first Buehrle. Davis is hitting .316 against him for his career with two home runs and four driven in.
Adam Jones, Outfielder:  The fourth member of the Orioles you could consider against Buerhle as he has 10 hits in 28 career at bats. In his career,  Jones has produced at the Rogers Centre hitting .337 with nine home runs and 15 runs driven in.
Denard Span, Outfielder: Span's bat has been hot over the last eight games, picking up at least one hit in each game including four multi hit games. The Washington Nationals outfielder has had some success against Zack Wheeler with seven hits in 15 career at bats.
Elvis Andrus, Short Stop: The Texas Rangers shortstop has posted a.379 over the last seven days with three multi hit games. Andrus will face off against John Danks of the Chicago White Sox tonight. In his career Andrus has picked up six hits in 16 career at bats verse Danks.
Tyler Flowers, Catcher: Flowers is red hot after going 3 for 3 with a home run and three runs driven in last night against the Rangers. In his last ten games Flowers has posted a .394 batting average with three home runs and ten runs driven in.