Ryan Howard and David Wright face off over the weekend in fantasy baseball battle. Howard and the Philadelphia Phillies host the New York Mets with David Wright. These two players get a chance to face off against two starters on Saturday that they have mauled in their career.

Ryan Howard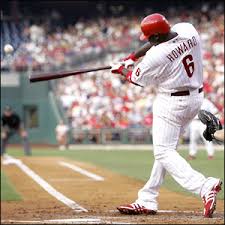 Howard will get his shot against Mets right hander Dillion Gee. Howard has put together a pretty good stat sheet posing a .450 batting average with six home runs and 14 runs batted in. These numbers lead to our suggestion to start the struggling first baseman. This could also be a very nice pickup at a cheap cost on August 9th.

David Wright

Wright isn't far behind Howard in production on Saturday against the Phillies left hander Cole Hamels. In 76 career at bats verse Hamels, Wright has picked up 25 hits, including five home runs and 16 runs batted in. We recommend monitor his performance over the next few days as reports have surfaced stating the Mets third baseman could be hurt.
Looking ahead at Friday, August 8th Scott Kazmir headlines the top fantasy starters to pitch. Kazmir and the Oakland A's take on the Minnesota Twins at home. The Twins hitters are hitting .185 against Kazmir in 92 at bats with only one home run. At the plate on Friday if you're looking for a fantasy sleeper, consider look at Lyle Overbay against Josh Beckett. Overbay has put up some good numbers against the right hander hitting .342 with 13 hits in 38 at bats.
On Saturday Howard and Wright are just two of potential fantasy starters in the lineup. Raul Ibanez is a nice cheap option and has 18 career hits against San Francisco Giants starter Tim Hudson. The other nice play along with Wright for the Mets is second baseman Daniel Murphy. Murphy has a career .354 batting average against Cole Hamels with five extra base hits. Yu Darvish headlines the top starters to use on Saturday against the Houston Astros. Darvish has picked up 42 strikeouts against the Astro hitters in just 114 at bats.



On Sunday, August 10th, 2014 Phil Hughes of the Minnesota Twins gets his shot at an Oakland A's team that he has pitched well against. The A's lineup has 17 career hits against Hughes in 100 at bats. Only four of the 17 hits went for extra bases with one leaving the ball field. This should be one of a few nice options on the mound on Sunday. Victor Martinez and the Detroit Tigers head to the Rogers Centre to take on the Toronto Blue Jays. Martinez has 27 career hits against Mark Buehrle for his career including four home runs and 15 runs batted in.