The Monday Morning Blues won't slow us down tonight as we turn our entire attention to the nine game MLB slate tonight. A slate that features a solid list of Daily Fantasy Baseball Options to build around including first baseman Paul Goldschmidt, starting pitcher Danny Salazar and third baseman Kris Bryant to name just a few of them.
As we started digging deeper into tonight's nine game slate the one question mark that continues to stand out is the starting pitcher slot on a night where only three solid starters standout a top tier option. Those three options are Danny Salazar of the Cleveland Indians, John Lackey of the Chicago Cubs and Robbie Ray of the Arizona Diamond Backs.
Each of those three starters enter there start tonight averaging over 40 fantasy per start this season. Meanwhile another direction we could turn to is a cheaper option and one that might be used in a lower percentage of tournament actions. One of those options we like is Lance Lynn who will look to take advantage of a Pittsburgh Pirates team than ranks third in fewest runs driven in, 12th lowest batting average and 7th lowest OPS in all baseball.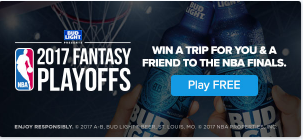 Here are our top tier fantasy options for Monday April 17th, 2017's lineup of MLB games.
Starting Pitcher – Danny Salazar
We have a few a directions we could go with the starting pitcher slot including going with Danny Salazar as a top option and Lance Lynn as that solid high risk high reward type of fantasy play. Now while Salazar has not picked up a win in either of his two starts he has however turned in at least nine strikeouts in both of his two starts in route to at least 32 fantasy points
Fantasy Sleeper: Lance Lynn & Derek Holland
Catcher – Yan Gomes
After spending heavy at the starter pitching slot it opened up the door for us to look at a Fantasy Sleeper at the catcher position. This landed us with the Cleveland Indians catcher despite seeing him struggle to start the season. While it might sound crazy the move is simply based on his high success rate against Kyle Gibson. Entering tonight's contest, Gomes is seven for 16 with two home runs and four runs driven in.
Fantasy Sleeper: Yasmani Grandal and Geovany Soto
First Base – Freddie Freeman
The first base position is loaded with top tier options on Monday Night including, Anthony Rizzo, Paul Goldschmidt and Freddie Freeman. In the end it is nearly impossible to look past Freeman who has been red hot to start the season picking up hits in five of his last six games including posting two multi-hit performances while posting double digit fantasy performances in four those contests.
Top Tier & Mid Tier Fantasy Options: Wil Myers
Fantasy Sleeper: Matt Adams

Second Base – Starlin Castro
We could go a few directions at the second base position including guys like Brandon Phillips, Josh Harrison and Jose Altuve. In the end while all of those options sound nice, Castro's salary cap number, solid start and the fact they New York Yankees are playing at home in a hitter friendly ball park makes him our top fantasy play of the night at the position Castro enters this game hitting .333 with two home runs and six runs batted in while picking up multi hit performances in three of his last five games.
Top Tier & Mid Tier Fantasy Options: Jose Altuve & Brandon Philips
Fantasy Sleeper: Daniel Descalso/Kolten Wong (If they start)
Third Base – Chase Headley
Much like Castro, Headley is a very difficult player to pass up as he continues to swing a really hot bat. The Yankees third baseman is riding three straight games with at least 12 fantasy points while also posting at least double digit fantasy numbers in five of his last six games. Another viable option we like tonight is Jose Ramirez who is hitting .440 over his last seven games with two home runs and eight runs batted in.
Top Tier & Mid Tier Fantasy Options: Jose Ramirez
Fantasy Sleeper: Jedd Gyorko
Short Stop – Adam Frazier
The Pittsburgh Pirates shortstop is enters tonight's game red hot of late picking up six hits over his last ten at bats. In that stretch, Frazier has picked up a double, a triple, one home runs, three runs scored to go along with four runs driven in. Along with Frazier Francisco Lindor is another strong option as he enters this contest picking up eight hits in ten career at bats against Kyle Gibson.
Mid Tier Fantasy Option: Travis Shaw
Outfielders – Mike Trout, Ender Inciarte & Mitch Hanigar
As we started to look around at each of the positions the first slot we elected to fill was one of our outfielder slots with Mike Trout. Trout continues to post MVP like numbers night in and night out this includes picking up at least 15 fantasy points in four of his last six games. Meanwhile both Inciarte and Hanigar are red hot combining to pick up 13 hits over there last four games with five home runs.
Other Outfielder Options: George Springer, Giancarlo Stanton & Khris Davis
Fantasy Sleepers: Andrew Toles & Abraham Almonte