We have a lot of options this week and lineup construction is crucial.  We are glad Tom Brady played on Thursday night after his performance.  We are starting with a clean sheet so let's construct a winning lineup.  We are going to lead the way as we construct our three cash game lineups.
Quarterbacks:
Philip Rivers $6,600
Andy Dalton $6,000
We settled on Rivers for two of our lineups and Dalton for the 3rd lineup.  Rivers has a matchup with the Baltimore Ravens in Baltimore.  The Ravens are giving up 283 passing yards per game and over 21 fantasy points per week to QBs.  We also like the stacking options with Rivers since he is likely to throw 45+ times in this game.  The San Diego run game has been nonexistent so they will throw on any down and distance.  At Rivers price we want a lot of exposure to him and cheaper stacks like Ladarius Green and Danny Woodhead or a more expensive stack like Keenen Allen.  We also went with Andy Dalton in one of our cash lineups.  Dalton has a price of $6,000 and is leading all QBs on Draftkings with an average of 25 points.  This Cincinnati/Pittsburgh game has a total of 49 points in Vegas and could very easily turn into a shootout with Big Ben back in the fold.  Cincy has plenty of stacking options in AJ Green, Tyler Eifert, or Marvin Jones.  A risky contrarian play could be a Dalton/Giovani Bernard stack as Bernard has 18 catches on the year and they could hook up for a score.  Other QBs we considered were Cam Newton, Brian Hoyer, Eli Manning and Matt Stafford.  For the cash game lineups we went with Rivers and Dalton as we deemed their floors safer and both have high ceilings.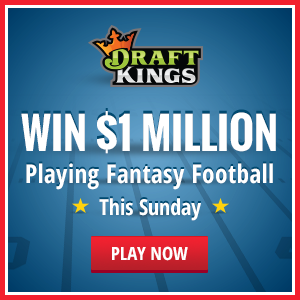 Running Backs:
Todd Gurley $6,300
Justin Forsett $6,100
Mark Ingram $6,400
Danny Woodhead $4,500
We sprinkled in three RBs that have favorable matchups and are all home favorites.  RBs that are home favorites have favorable game scripts and expect to see meaningful carries late into the 4th quarter as Vegas suspects they will be playing from ahead.  Our picks at RB are Todd Gurley, Justin Forsett, and Todd Gurley.  Gurley had a huge game last week and his price has risen drastically but he's still underpriced.  He's a 3 down back who also sees the goal line work.  As long as he gets 4 or 5 catches in addition to his carries he's a steal at this price.  Forsett has a juicy matchup vs the San Diego Chargers who are giving up 25+ fantasy points per game to RBs.  With injuries in the Baltimore backfield over the past few weeks we also know Forsett is a 3 down back who will get plenty of touches.  Add to that Steve Smith Jr was limited at practice with a knee injury so Forsett seems to benefit most from increased carries and hopefully a few screen passes.  Ingram is our next play this week and also a great GPP play.  He had 2 TDs vulture by Khiry Robinson last week.  Our only concern with Ingram is he and Robinson both saw 14 carries last week.  The Giants are allowing 4.9 ypc over the last 3 games and got torched by Darren McFadden last week.  We played Danny Woodhead in one stack with Philip Rivers.  I also considered lower priced options like Giovani Bernard, Alfred Blue and Darren McFadden.  Higher priced options in good spots include Le'Veon Bell and Devonta Freeman but we wanted to save some money at RB this week.
Wide Receivers:
Alshon Jeffrey $6,400
Mike Evans $6,800
Keenan Allen $7,700
Michael Crabtree $4,700
Antonio Brown $7,800
Michael Floyd $3,500
AJ Green $7,600
We listed all the WRs currently in our 3 lineups.  All of our flex plays come from the WR position as Michael Floyd's price is so low.  We did give consideration to Julio Jones, Calvin Johnson and DeAndre Hopkins but didn't want to pay up for those guys this week and these guys worked better with our lineups and stacks.  You can always be contrarian and play a naked QB with some of these QBs in cash or a GPP.  Alshon Jeffrey is our top pick this week and in all 3 lineups.  In his 2 games back he has seen 11 targets each week and Cutler will continue to feed him.  He is underpriced this week who is capable of a big game and is a red zone target.  He will be shadowed by Xavier Rhodes quite a bit this week and he is ranked as a bottom 5 DB on @PFF.  We were all over Mike Evans last week and like him even more in week 8.  Tampa Bay enters this game vs Atlanta as heavy road dogs which means Vegas expects them to be playing from behind.  Vincent Jackson has already been ruled out so Evans is the #1 and we expect Winston to lock in on him and feed him all day.  Crabtree sees an abundance of targets each week and that number could be on the rise vs the New York Jets with Revis expected to shadow Amari Cooper.  We expect Carr to stay away from that matchup and pepper Crabtree.  Antonio Brown has Big Ben back and his price is depressed after the Mike Vick/Landry Jones experiment.  Michael Floyd will again be in all of my cash lineups and he's as close to a guarantee to pay off.  John Brown has hamstring issues on both legs and the talk is he will sit out this week.  Floyd is too cheap not to play.
Tight Ends:
Ladarius Green $3,000
We  have Ladarius Green penciled in on all 3 cash lineups for the 2nd straight week.  We expect 8 to 10 targets for Green in the middle of the field and he also sees red zone targets as well.  It looks like Antonio Gates will be out this week but at least he will be limited and this matchup vs the Ravens should see plenty of throws by Philip Rivers.  Earlier in the week we liked Kelce who has a good matchup but we decided on Green because of the price and he allows us to fit in the WRs we wanted.  Travis Kelce gets a nice matchup vs the Detroit Lions who is giving up over 86 fantasy points per game to opposing offenses and Kelce is the #1 weapon in this Kansas City passing game in the red zone.
Defense/Special Teams:
Arizona Cardinals $4,000
St. Louis Rams $3,200
We think the Rams are the top play this week.  Vegas has a team total of 15.75 points for the San Francisco 49ers which is the lowest of the week so play the Rams with confidence.  They also have the high sack potential and the possibility of a return touchdown with the special teams.  We also played the Cardinals in one lineup because we had some money left over.  Cleveland has a question mark at QB with the injury to McNown so we don't know if he is 100% and the legal issues possibly looming for Johnny Manziel.
Our  top 3 options on defense include St. Louis $3,200, Seattle $3,700, and Arizona $4,000 in that order.  St. Louis came up big in week 7 and helped us to a very profitable week.  St. Louis takes on San Francisco with a team total of 15.75 points this week which is the lowest team total of the week.  They are fresh off a 24-6 win over Cleveland in which they held the Browns to 6 points.