Another month on the horizon which only means four more weeks of fantastic daily fantasy sports actions.  With Major League Baseball (MLB), Mixed Martial Arts (UFC), Racing (NASCAR), the National Basketball Association (NBA), the Professional Golf Association (PGA), Soccer (UCL), and eSport (LOL) daily fantasy sports (DFS) all going on right now this is an absolutely amazing time of year to not only be a sports fan but a DFS enthusiast as well.  Not only is May "National Barbecue Month" which usually means, great times, with great friends, with great spirits, watching great sports but its also a time to make new friends, indulge in new experiences and explore life to its fullest all while enhancing one's self towards the positive.  As we head into the beginning of May its the perfect time to reflect on what is important while also enjoying the entertainment that life often offers.  Regardless if you are a daily fantasy sports rookie or a seasoned DFS professional there is always something exciting
Daily Fantasy Sports Key News Release #3: DraftKings Missions and FanDuel Challanges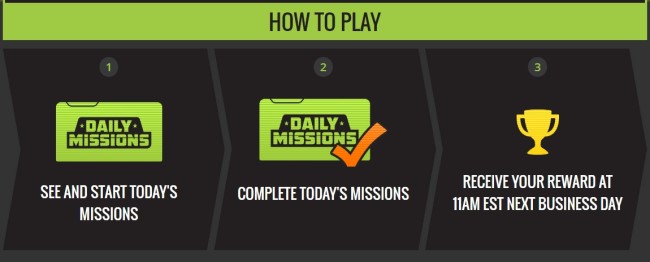 Remember when you were a kid or maybe even as an adult as well and went on scavenger hunts?  Those are for sure some of the most enjoyable moments of life.  Luck for us where there is fun there is always daily fantasy sports.  In attempt to recreate some of those amazing times we have playing games and chasing goals against opponents both daily fantasy sports websites DraftKings and FanDuel have created what they are calling "Missions" and "Challenges".  While the FanDuel "Challenge" daily fantasy sports promotion is limited to seven challenges in seven days with each challenge completed equaling an upgraded reward the DraftKings "Mission" rewards game is ongoing and perpetual.  If FanDuel players complete every challenge they get an entry into the "Ultimate Fan Free Play", where prizes such as an autographed Kevin Durant jersey and a signed Peyton Manning helmet plus more are up for grabs!  DraftKings "Missions" are daily and offer something new all time.  What both of these announcements mean for the daily fantasy sports community in May is that DFS companies have there mind on "Missions" that reward players.  This May 2016 seems to be a great time of year for daily fantasy sports fans to be on the look out for those extra perks that seem to be popping up in the form of goals and accomplishments.  What daily fantasy sports adventure do you want to complete in May?
Daily Fantasy Sports Key News Release #2: Fanpicks Exclusive DFS "Cross Sport Contests"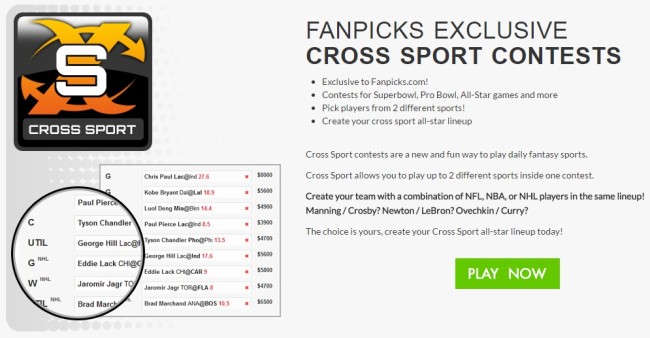 Were always impressed and excited when a daily fantasy sports company tries something new and that is exactly what FanPicks is doing with their new exclusive DFS "Cross Sport Contests".  FanPick's Cross Sport contests are a different approach to playing daily fantasy sports where multiple sports are offered inside one contest.  This daily fantasy sports format allows you to create a team with a combination of National Football League (NFL), National Basketball Association (NBA), National Hockey League (NHL) players all within the same lineup.  FanPicks exclusive Cross Sport contests can be in either the Salary Cap-Pointspread format and usually requires contestants to pick 6 athletes from one sports league, and 3 athletes from another sports league to build a lineup.  While these are the usual rules and parameters as with any new daily fantasy sports game type it is best to double check the guidelines of the specific contests you are playing.  One of the best parts about playing daily fantasy sports is getting to try new things all while enjoying our favorite competitions and these innovative FanPicks "Cross Sports Contests" give us another way to do just that.
Daily Fantasy Sports Key News Release #1: Go Draft Private Daily Fantasy Sports Leagues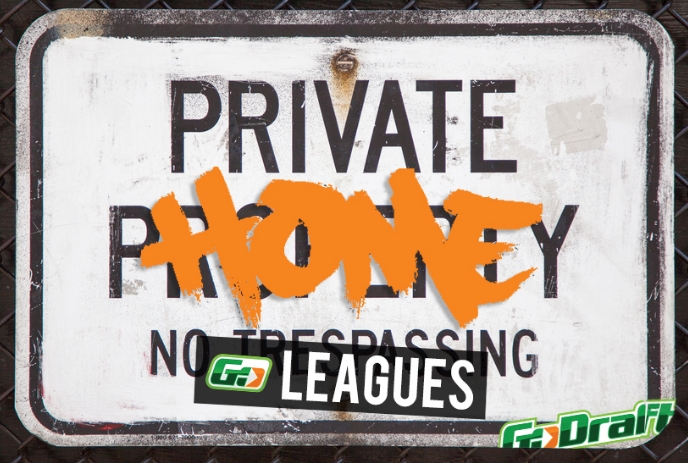 One of the best aspects of daily fantasy sports is the competitive, group nature of the games.  Its the perfect opportunity to enjoy sports action while at the same time interacting and competing against other like minded individuals and sports enthusiasts.  A perfect way to celebrate all of this competitive camaraderie is by entering into Go Draft's new private daily fantasy sports leagues.  Announced as the daily fantasy industry's first ever private league system, the Go Draft private daily fantasy leagues are very similar to a private home poker game, a private online poker tournament or those old school season-long fantasy football office, friends and family pools.  Restricting the general public from contest access Go Draft private league commissioners and players are allowed to play and control the daily fantasy gamin environment.  With the ability to invite friends, family, co-workers, and other private groups, by way of Facebook, Twitter, or Email Go Draft private leagues are the perfect way to enjoy daily fantasy sports without all the outside noise from strangers and the playing public.  Its important to note that many other daily fantasy sports websites like DraftKings and FanDuel are now offering create your own contests and direct challenge formats as well so this new Go Draft game release is the perfect reminder that these types of DFS options exist.  There is a lot going on in daily fantasy sports in May to make things more exciting so keep your eyes open and ears peeled.
Always a good time when played responsibly daily fantasy sports are the perfect entertainment compliment to our love for watching all favorite teams and athletes compete.  As the DFS industry and sports markets prosper we can hope there will be many, many more great months of new daily fantasy sports news releases and endeavors to get excited about.  If you are looking to stay on top of the latest in daily fantasy sports news and information due make sure to check back in often!  Staying on top of the latest in market news is just one more step in not only staying at the forefront of the industry but also a way to facilitate a more positive and informed participation level.  Bookmark Rotoguys.com!