With every new year comes the chance for new beginning and daily fantasy sports is no different.  A fresh start, improvement and the opportunity to try new things is what 2017 should be all about and we can find all of this in more from most of the daily fantasy sports platforms and operators.  While the new year is a chance for daily fantasy sports players to reexamine and build on their approach to the game its also a spot where DFS websites also have the spotlight to increase there brand image and support within the community.  As a daily fantasy sports player one of  the biggest perks of playing is  all the amazing promotions that the companies have been coming up with over the years and this year should be yet another exciting time for daily fantasy sports bonuses.  Lets take a look at 5 of the most interesting daily fantasy sports promotions that we can take advantage of to kick off the New Year and really get the positivity and energy going for our 2017 daily fantasy sports year.
2017 New Year Daily Fantasy Sports Promotion #1: DraftKings King of The Bay VIP Event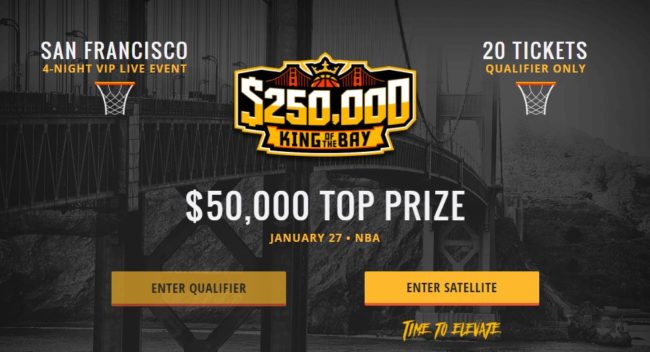 DraftKings KING OF THE BAY satellite ticket winners will work with a customer experience representative to design their dream weekend getaway in San Francisco California by selecting an excursion on Saturday and Sunday, samples below:
-Two tickets to the Golden State Warriors vs. Los Angeles Clippers game on Saturday, January 28th
-A round of golf at a private course in San Francisco
-A trip to the beautiful vineyards of Napa Valley
Each package ($19,000 value) includes a KOTBAY Ticket and four-night stay (Jan. 26th-30th) in San Francisco and $1,000 cash for airfare and transfers.  Don't miss your chance to be part of our first live DraftKings event in San Francisco!
---
2017 New Year Daily Fantasy Sports Promotion #2: FanDuel Panini NFL Dive Contest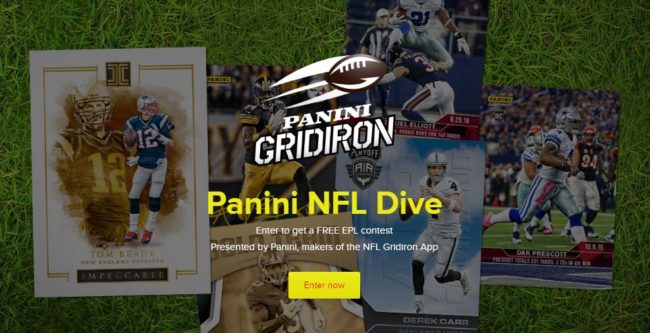 FanDuel has partnered up with Panini, creators of the NFL Gridiron trading card app, to give you a great opportunity to play two FanDuel contests for the price of one.  All you have to do is enter the Panini NFL Dive tournament on Saturday 1/7/2017, and you'll automatically get a FREE entry into a $3K EPL contest on 1/31/17. PLUS — in addition to your free contest, you'll also play for large cash prizes in the Panini NFL Dive tournament so don't miss out.
---
2017 New Year Daily Fantasy Sports Promotion #3: FanPicks Winners Circle Promo

Each week of the NFL, NCAA, NBA, NHL and MLB season, FanPicks will honor customers who post the highest scoring daily fantasy sports lineups on the website.  Any lineup in any completed, paid contest ($50,000 salary cap) is eligible to be honored.   Each week's winner is our Fanpicks Guru and wins one Platinum ($10) ticket! 2nd, 3rd and 4th place win 3 Silver ($1) tickets each!
---
2017 New Year Daily Fantasy Sports Promotion #4: FantasyAces Beginner Tournament

FantasyAces is now offering beginner games where only players with less than 50 wins are eligible to join the contests.  If you are looking for a new place to try out daily fantasy sports then the FantasyAces beginner tournament promotions might be an ideal place to get started.
---
2017 New Year Daily Fantasy Sports Promotion #5: FanDaction Pick 5 Perfect Horse Matchups

Pick the right horses at FanDaction and WIN $10,000 Daily! Play up to 3 free daily horse matchup contests per day and try to pick your way to the top of the leader boards.  There are 5 races in each horse matchup contest and all you have to do is pick 1 of 3 horses in each presented race.  Pick 5 winners in a horse matchup contest and you win $10,000!  This is a totally free, no deposit required, no strings attached promotion so why not head on over to FanDaction, grab our RotoGuys sign up bonus (Enter JC10) and see how your picks do!  Its daily fantasy sports first foray into horse racing contests so why not give this fun new DFS sports format a try.
What will you be trying new in daily fantasy sports (DFS) in 2017?  If you want to stay updated with all the latest in industry news be sure to check back often.  New strategies and sign up bonuses are being posted constantly so do not miss out on your chance to take advantage of the most valuable DFS offerings of 2017.