The NBA schedule is action packed tonight with a ten-game lineup for DFS owners to cash in on. A lineup that features some of the top daily fantasy basketball including the likes of Kevin Durant, Russell Westbrook and LeBron James. While other top options include DeMarcus Cousins, Anthony Davis & Karl Anthony Towns.
One option DFS owners should look to consider tonight is John Wall as he looks to lead his Washington Wizards to a much-needed win over the Atlanta Hawks. Wall who is coming off his best fantasy performance in over a month after dealing with a knee injury against the Boston Celtics will have a chance to put together another big-time fantasy performance against a very bad Atlanta Hawks team.
Meanwhile Wall's former teammate at Kentucky Cousins looks to be another solid play tonight as he looks to take advantage of a very bad Brooklyn Nets team. That said in order to allow two or more of these top options to land in the same lineup you will need to find a few key fantasy sleepers and bargains to build around. Here are a few of the sleepers we like for tonight's ten game NBA schedule.
NBA FanDuel Fantasy Sleepers for Wednesday December 27th, 2017
Maxi Kleber ($3,600), Dwight Powell ($3,900) & Salah Mejri ($3,500)
The trio of the Dallas Mavericks are all worth a look tonight as they face off against the Indiana Pacers. While only Mejri is listed as a center, look for the Mavericks to rotate the three in and out tonight against a Pacers team that ranks 3rd in the NBA in fantasy points allowed to opposing centers and 10th to opposing power forwards.
E'Twaun Moore ($4,400)
Moore is an interesting option as he continues to see solid minutes night in and night out. Over his last ten games, Moore has seen at least 27 minutes in all but one of those contests. That said he production fluctuates for his fantasy owners from as little as 12.3 fantasy points to as high as 41.1 over that stretch. Tonight, he should be able to put together some solid numbers against the Brooklyn Nets. Another solid sleeper option is Moore's teammate Dante Cunningham.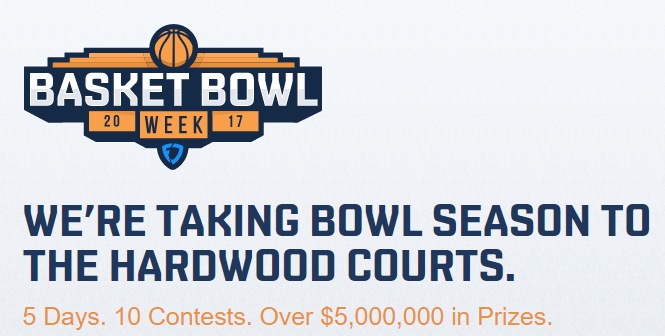 That said here are the NBA Daily Fantasy Basketball options we like for Wednesday December 27th, 2017.
Point Guards Options for FanDuel on December 27th, 2017
John Wall & Jamal Murray
We love the point guard position tonight as we could see various combinations that could reward every DFS owner. One option is to team Wall with Russell Westbrook while also considering teaming him with Kyrie Irving. Nonetheless the point guard position is the one position tonight you will see a ton of fantasy points scored by top options. For us Wall is a near must use option based on his matchup while Murray continues to be consistent night in and night out. The Denver Nuggets point guard has posted over 30 fantasy points in three of his last four contests.
Top Point Guard Options: Russell Westbrook & Kyrie Irving
Mid-Tier Point Guard Options: Dennis Smith Jr, Ricky Rubio & J.J. Barea
Fantasy Sleeper Options: Jerian Grant & Andrew Harrison
Shooting Guard Options for FanDuel on December 27th, 2017
Jordan Clarkson & Caris LeVert
With no James Harden on the floor tonight the shooting guard slot is an interesting one for DFS owners. While DeMar DeRozan looks like a stud option in a game that could see a ton of points scored, we value DeRozan more of a cash lineup option over a GPP stud. That said we turned to value options in Clarkson and LeVert. For us Clarkson is one of those options who should be a main piece in many lineups as he should continue to see a uptick in minutes with Lonzo Ball out. In the team's last outing, Clarkson was on the floor for 35 minutes while posting 45.7 fantasy points. Meanwhile LeVert is one of those fantasy options that you have grown to love and hate. That said, he enters tonight with four games over the 26 point fantasy mark in the last five outings.
Top Shooting Guard Options: DeMar DeRozan & Tyreke Evans
Mid-Tier Shooting Guard Options: Jeremy Hield & Buddy Hield
Fantasy Sleeper Options: Josh Hart & JR Smith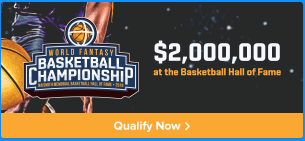 Small Forward Options for FanDuel on December 27th, 2017
Jimmy Butler & Wilson Chandler
The big question for Wednesday Night is which of the top three fantasy options should we look to build around? For us we turned to Butler but we could very easily have inserted Kevin Durant and/or LeBron James into the slot. Butler has been on a roll of late posting at least 45 fantasy points in three of his last four games. On the other side of floor in the same matchup we like Chandler as he looks to post another solid performance against the same Minnesota Timberwolves team he posted 28 against last week.
Top Small Forward Options: Kevin Durant & LeBron James
Mid-Tier Small Forward Options: Brandon Ingram, Otto Porter Jr & Joe Ingles
Fantasy Sleeper Options: Kelly Oubre, E'Twaun Moore & Dante Cunningham
Power Forward Options for FanDuel on December 27th, 2017
Bobby Portis & Dwight Powell
Despite electing to go cheap at the power forward position we left you the flexibility to move Anthony Davis into your lineup while going cheap at the center position instead of Cousins. For us we turned to Powell and Portis as both options have shown their ability to post mid 20 to 30 point fantasy numbers. We are expecting both to post six-time value tonight in fantasy matchups against mediocre teams. Powell should see minutes at both power forward and center against a Pacers team that ranks near the top 10 in fantasy points allowed to both positions. Meanwhile as long as Portis sees 20 minutes tonight (six straight 20 plus fantasy performances) he should reward his DFS owners with at least 20 if not 30 fantasy points tonight.
Top Power Forward Options: Anthony Davis & Kristaps Porzingis
Mid-Tier Power Forward Options: Kyle Kuzma & Nikola Mirotic
Fantasy Sleeper Options: Larry Nance Jr & Maxi Kleber
Center Options for FanDuel on December 27th, 2017
DeMarcus Cousins
In the end we just couldn't look past Cousins tonight against a very bad Brooklyn Nets team. Cousins enters tonight's contest with at least 45 fantasy points in three straight games. Add that success to the fact the Nets rank 1st in fantasy points allowed to opposing centers makes Cousins a must use option tonight. Along with Cousins you could also look to Love who faces off against a Sacramento Kings team that ranks 3rd in the NBA in fantasy points allowed to the position. Meanwhile, someone like Salah Mejri could reward his fantasy owners as a deep sleeper as he faces off against a Pacers team that ranks 2nd in fantasy points allowed.
Top Center Options: Karl-Anthony Towns
Mid-Tier Center Options: Kevin Love, Myles Turners & Enes Kanter
Fantasy Sleeper Options: Salah Mejri & Marcin Gortat