The holidays are finally here and if you are like us that means a time filled with watching games and playing daily fantasy sports (DFS).  With a Thanksgiving full of football and a Christmas full of basketball and everything in between there is a lot to look forward to at this time of year in the world of sports.  Another industry that also has a lot going on during the holiday season is daily fantasy sports (DFS) and that means there will not only be plenty of fun to be had.  There will be large DFS tournaments and contests with prize pools that if won would be sure to pad anyone's holiday spending and gift giving plans.  An opportunity to spend time with friends and family sports and DFS gives us the perfect platforms to bond over as we head into the New Year.  If you do have some time off here are just a few of the holiday daily fantasy sports perks you should  have on your radar as we wind down the 2016 sports year.
Daily Fantasy Sports (DFS) Holiday News Update Number One: DraftKings Offers New Years Eve Exclusive New York City Rooftop Celebration At The Knickerbocker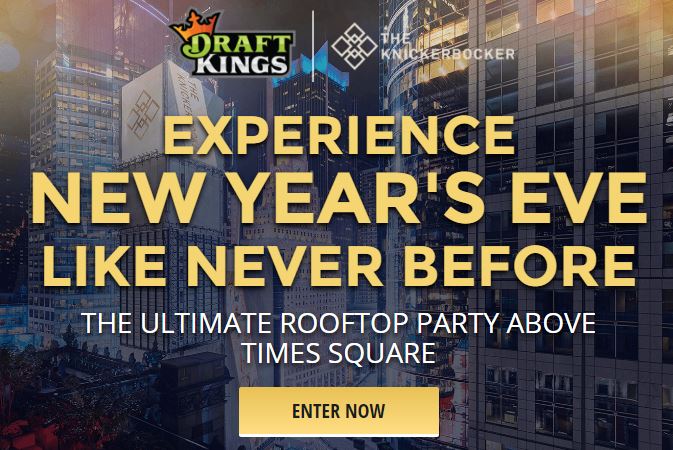 What better way to kick off the new year then qualifying for the ultimate daily fantasy sports New Years Eve party hosted by DraftKings and  The Knickerbocker hotel in New York City.  A qualifiers only event the prize package includes a Two (2) Night Hotel Stay (Dec. 30 – Jan. 1) at the Knickerbockers First Luxury Hotel in Time Square, VIP Access for two (2) to The New Year's Eve Exclusive Rooftop Celebration at The Knickerbocker with panoramic views of Times Square, live entertainment by DJ Sam French, a full premium open bar and a close view of the famous Waterford Crystal Ball in NYC.  Now that is what you call ringing in the New Year right.  The great part about this contest is that there are no limits to the number of packages a person can win so the more you win, the more friends and family you can bring!  With a limited number of potential spots up for grabs the time to get your entries in is now!
Daily Fantasy Sports (DFS) Holiday News Update Number Two: FantasyDraft Offers Rake Free Head-to-Head Contests and Events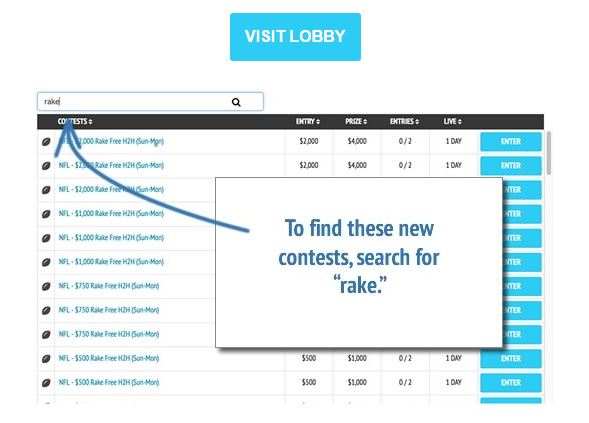 One of the biggest factors in becoming a winning daily fantasy sports players these days is ones ability to not only out play their opponents but to all out pace the ever increasing rake margins being elevated by some of the bigger sites.   Imagine if you could play rake free daily fantasy sports this holiday season?  Well you can as FantasyDraft is now offering Rake Free Head-to-Head contests.  You heard that correctly.  You can now play your head to head matchups with 100% of your entry fees going to the PayoutZone and back into the players pockets!  In the FantasyDraft lobby right now you can find Rake Free H2H contests from $2,000 all the way down to $.25.  Even more cool, for entry fees of $75 to $.25 you will see Intermediate versions which highly experienced players cannot enter.  If you are not taking advantage of daily fantasy sports holiday promotions like these then you are truly missing out.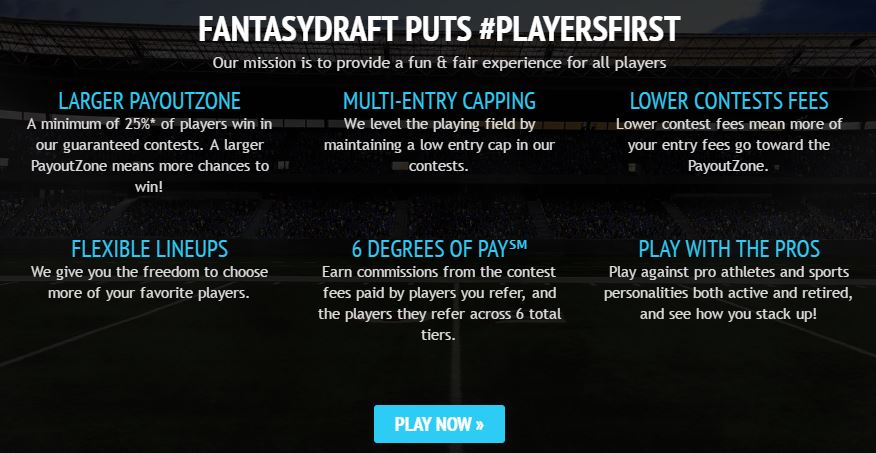 Daily Fantasy Sports (DFS) Holiday News Update Number Three: FanDuel Offers The Chance To Win A "Sportsrich Friendsgiving"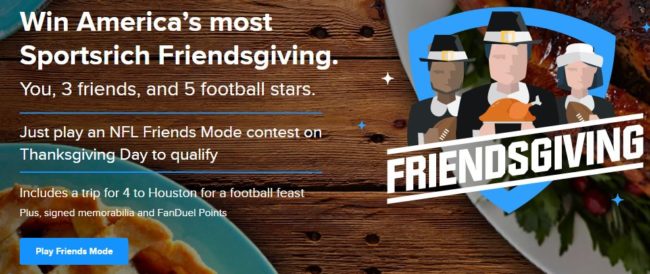 What better way to spend Thanksgiving then with a little daily fantasy sports and this year FanDuel is making that proposition hard to resist with their "Sportsrich Friendsgiving" experience contest.  Holding a prize package that includes a trip for 4 to Houston for a football feast, signed sports memorabilia and a large amount of FanDuel Points that you can use to purchase entries into  future DFS tournaments this is one FanDuel opportunity you do not want to miss.  In order to qualify one must Play an NFL Friends Mode contest on Thanksgiving Day (You can play a FREE contest or for cash. And must play with 3+ friends).  Everyone who plays an NFL Friends Mode contest on Thanksgiving Day earns an entry into the to the FanDuel Friendsgiving contest (12/4) which offers the top prize of a trip for 4 to Houston to celebrate on 12/12 over dinner and drinks with five Texas gridiron legends.  Imagine being the lucky winner of this exclusive sports experience?  It could be one the best holiday gifts received in a long time.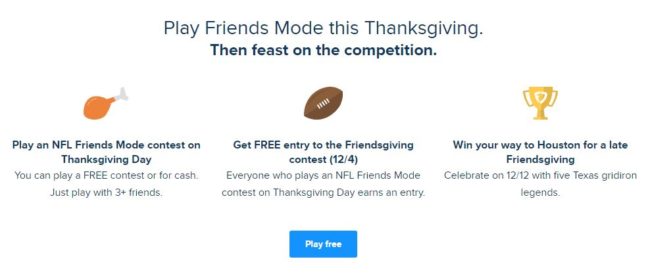 Will you be playing an daily fantasy sports this 2016 holiday season?  Keep checking back as there is always plenty of more great holiday news and content to come.  Why not enjoy yourself a bit more these holidays.  Sign up for one of great daily fantasy sports promotions and treat yourself.  You deserve it!