With the excitement that is MLB baseball in full swing there is no better time then now to enjoy some daily fantasy sports.  Sure the NBA basketball playoffs are going on and golf just had the PGA Masters major tournament but its still hard to deny the draw of the start of the season of America's past time.  As new MLB baseball team constructions and stars emerge its hard not to get wrapped up in all the new happenings on the diamond.  With all things new comes change making this a perfect time of year to consider trying out some different daily fantasy sports platforms like FantasyDraft.  Sometimes in life we can get stuck in same old routines which is why its always good to break habit and branch and out and explore new avenues and options with your sports entertainment.  Lets look at the 3 reasons why we all should be motivated to play more daily fantasy sports at FantasyDraft.
FantasyDraft Daily Fantasy Sports MLB Baseball Playing incentive #3 – Mobile Apple iOS App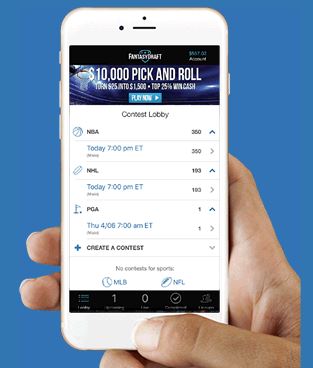 Just recently released the new FantasyDraft MLB baseball mobile smartphone iOS app is a smooth and friendly daily fantasy sports experience that can keep you in the action wherever you may be.  With the Microsoft Android version soon on the way as well FantasyDraft is now a fully functional mobile daily fantasy sports platform which should be all the motivation you need to give it a try.  Its so nice to be able to travel and stay mobile while also still getting to play DFS and now FantasyDraft gives you one more trusted option to do exactly that.
FantasyDraft Daily Fantasy Sports MLB Baseball Playing incentive #2 – The "#PlayersFirst" Approach

When it comes to customer service and the approach to the industry few are doing it better then FantasyDraft.  There new "#PlayersFirst" strategy is the perfect example of just how much FantasyDraft not only cares about its players but also how much the company wants to better the integrity and playing experience within the industry as a whole.  With a focus on A. No account sharing B. One account per person C. Strong data / information protection D. One person per account its clear that FantasyDraft wants a safe and fair playing environment for all giving us just one more highly enticing reason as to why we all should consider adding FantasyDraft into our MLB baseball daily fantasy sports repertoire.
FantasyDraft Daily Fantasy Sports MLB Baseball Playing incentive #1 – Rake Free Heads Up Games


If there is one single reason why you should give FantasyDraft a shot when it comes to your daily fantasy sports business is the fact that they are currently running rake free MLB baseball heads up games for there players.  No other site is doing this at the moment and it really highlights just how much value can be had from playing during such a rare promotion.  Rake is a huge factor in bankroll depletion and ROI suppression making this an almost must seize opportunity for players of all types, shapes and sizes.  If you have never considered playing in the heads up format this would be a great chance to do so.  The reasons above are the types of things that give great hope to the daily fantasy sports market and it is all taking place at FantasyDraft which is why signing up for a RotoGuys FantasyDraft bonus makes perfect sense. Click HERE to join!

The above are can not miss motivations for creating a new FantasyDraft daily fantasy sports account with one of our sign up offers or making the switch over from an older platform.  If you are planning on enjoying daily fantasy sports this MLB baseball season you will want to consider trying it on FantasyDraft.  From buy-ins as high as $10,000 all the way down to $.25 and Free there is something for everyone.  They even have beginner games for those new to the entire experience.  Having a FantasyDraft account is always worth it and the start of the new MLB baseball season is just one more great reason why makes grabbing yours today a good idea.