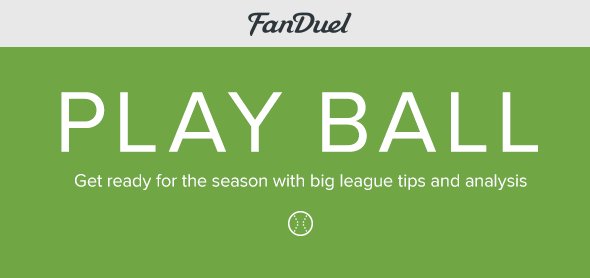 The start of any new daily fantasy sports (DFS) seasons brings a certain feel of excitement in the air and 2016 Major League Baseball DFS is no different.  As alluring as opening day of baseball is with the returning smells of ballpark food wafting in the sky and our favorite teams and players taking the field it has become even more exciting with the incorporation of daily fantasy sports.  Now picking up mainstream attention daily fantasy sports are fast becoming a popular form of sports entertainment loved by the masses and even making there way worldwide.  While the landscape of daily fantasy sports is constantly changing certain concepts remained fixed such as the idea of having fun, enjoyment of the ability to wager on sports, cultivation of competitive spirit, live game enhancement and the camaraderie it can bring among fans, friends and family among its many other joys.  This 2016 Major League Baseball daily fantasy sports will be no different this year at it will bring all the characteristics of DFS that we know and love and more.  As with any new sports season there are a few items we should be thinking about as we prepare to get ready for the fresh chance at new found fun and success.  Lets look at three concepts we will want to keep on our radar as we head into the start of the daily fantasy sports 2016 Major League Baseball season.
2016 MLB Daily Fantasy Sports New Season Consideration #1: Rule Changes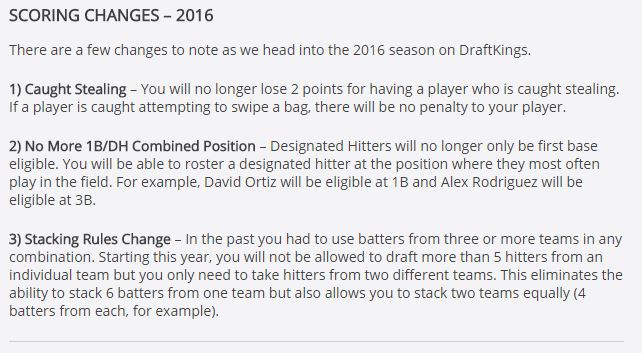 Like past seasons, sports opening days give daily fantasy sports operators the perfect chance to make rule adjustments and changes in hopes of advancing the player experience.  The scoring system for any daily fantasy sports game is one of the most important aspects of any DFS contest so knowing the rules is vital to performing well which is why we always want to keep our eye on any potential changes.  Similar to years past many companies are making tweaks to there upcoming sports and one great example of this is DraftKings updated Major League Baseball daily fantasy sports scoring rule changes.  DraftKings is making three significant scoring changes of note. 1. Caught Stealing is no longer a loss of two points 2. 1B/DH roster changes and the designated hitter is now slotted in his closest daily playing position rather then strictly first base 3. Team Combining will now only allow four players from a single team to be deployed.  For DraftKings these are major changes and will impact strategy significantly this year.  If DraftKings is making changes we can be sure others are as well so it will be key to keep your eye on your favorite daily fantasy sports websites major league baseball scoring rule updates to assure you do not miss out on any new adjustments like the ones mentioned above.
2016 MLB Daily Fantasy Sports New Season Consideration #2: Strategy Adjustments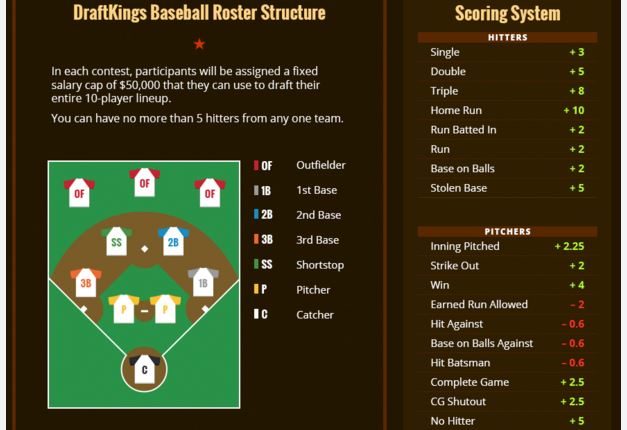 As with any new beginning to a season its a great time to look over past mistakes and review historical data in hopes of making improvements for the future.  As we enter into a new 2016 Major League Baseball daily fantasy sports season and MLB DFS industry matures as a whole we are finally seeing some tried and true data and strategies come to light.  In a recent FanDuel strategy guide it was noted how important spending on Pitching is.  FanDuel noted that "Winning lineups in 2015, spent $9,445 (average) on pitchers, compared to losing lineups who spent $8,961."

While a lot of us know how truly important good pitching is to a winning daily fantasy sports lineup this just further emphasizes and highlights this fact and is something maybe we want to consider further reviewing as we approach the new baseball year.  What strategy adjustments will you be making this year?
2016 MLB Daily Fantasy Sports New Season Consideration #3: Freerolls

One of the best parts about any daily fantasy sports season relaunch is that it brings out the larger of Freerolls and other free prizes and contests that are offered by the DFS companies from time to time.  A way to draw interest, build site liquidity all the while rewarding and giving back the the players Freerolls are the perfect opportunity for new and old daily fantasy sports alike to get enjoy this exciting form of sports entertainment.  This 2016 Major League Baseball daily fantasy sports season looks like it will be no different as the big Freerolls are already starting to pop up as evidenced by the FantasyAces $1000 contest against Jeff Mans.  One of the most trusted and longest running companies in the industry FantasyAces is a company you new can trust and this is a great opportunity for getting the feel back of MLB DFS at no cost to yourself but a little time.  Things also brings up a great point about how DFS Freerolls are the perfect chance to hone and practice your skills at no risk.  If FantasyAces is putting up a Freeroll of this size others should be as well so keep your eyes peeled for the great free games that should be popping up as we head into a brand new daily fantasy sports Major League Baseball season.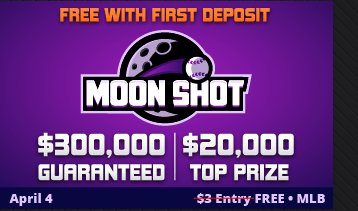 As pumped as we are for Major League Baseball opening day and the subsequent new daily fantasy sports seasons that is coming along with it?  If you have not tried your hand at DFS through sites like DraftKings, FanDuel and FantasyAces now is the perfect to sign up, grab one of our bonuses and give it a go as the 2016 MLB season gets underway.  For the more experienced players hopefully this daily fantasy sports article will get you thinking about what you will focus on for the upcoming year.  Regardless of experience it should no doubt be another exciting and fantastic time in not only sports but daily fantasy sports as well.  Its that time of year again and we hope to see everyone having as much fun as we are.  Are you ready for 2016 Major League Baseball yet?