Maurice Jones-Drew looks to rebound as one of the top fantasy sleepers in 2014. Just a few seasons ago MJD had been one of those running backs you wouldn't pass up an opportunity to draft him in the first or second round. That hasn't been the case since his 1,606 rushing yard 2011 NFL Season.
Now in Oakland with the Raiders we expect Jones-Drew to get a shot at the starting running back position. Jones-Drew is expected to split time with Darren McFadden, but that might not be a big factor as he has had trouble staying on the field. The Raiders have revamped the team's offense this season working on addressing the offensive line as well as adding veterans Matt Schaub at quarterback and James Jones at wide receiver.

Maurice Jones-Drew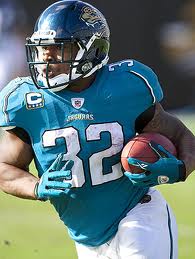 Jones-Drew  is just one of a handful of fantasy sleepers to take a look at in 2014. Here are the fantasy sleepers to consider.
Markus Wheaton, Pittsburgh Steelers: The Steelers will rely on Wheaton to fill some of the void left by the departure of Emmanuel Sanders. Last season Wheaton was only able to pull in six catches for 64 yards as a rookie.
Andre Brown, Houston Texans: Over the past few seasons we have seen the Texans use both Arian Foster and Ben Tate in split roles with both running backs producing. That should be the case this season as Foster is returning from an injury and will look to keep him fresh. All signs point to Brown as the team's backup to Foster on the Texans depth chart.
Ryan Fitzpatrick, Houston Texans: It I still early in training camp with only the HOF game in the books but we like Fitzpatrick in the Texans system. If he can stay healthy expect Fitzpatrick to put up some good numbers with Andre Johnson and DeAndre Hopkins at the receiver position.
Adrien Robinson, New York Giants: Robinson could benefit in the new offense, Ben McAdoo is bringing to the Giants. McAdoo has been a part of the Green Bay Packers system the past two seasons and if h can implement the tight end into the offense like they have done with Jermichael Finley, Robinson could be a great pickup late in fantasy drafts.
Dexter McCluster, Tennessee Titans: We haven't seen McClusters full potential, but we expect to see it in 2014 in Tennessee. McCluster brings a dual threat type of player that can line up in the backfield or at wideout. We expect to see Ken Whisenhunt find ways to get him the ball much like he did last season with Danny Woodhead in San Diego.