The weekend has arrived opening up the door for a little FanDuel action for all of us. Since the NBA fantasy season is nearly over we are continue to ride the last few days we have left of some FanDuel NBA action. That being said we are limited to tomorrow night's game 2 matchup between the Cleveland Cavaliers and the Atlanta Hawks. Along with Saturdays game 3 matchup between the Houston Rockets and Golden State Warriors.
For anyone just taking a look at FanDuel or a new daily fantasy player typically these leagues run just one day. Unfortunatly with only two series taking place around the NBA you can't build a fantasy roster from just one game so they spread it over a two day stretch.
Now to our NBA FanDuel lineup for Friday May 22nd we are sticking with LeBron James as the main building block for our fantasy roster. James understands what it will take to get the Cavaliers to the NBA Finals and he also understands he will need to carry the load for the team in order to get them over the hump.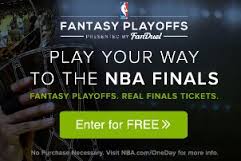 Here is our complete NBA FanDuel lineup for Friday May 22nd.
PG – Stephen Curry ($10,400): We are sticking with the NBA MVP in game 3 as the series now shifts to Houston. We considered sitting Curry for Kyrie Irving to use the extra cash for James Harden. That being said we couldn't pull that trigger electing to go with Curry knowing everyone will be using Harden at home on Saturday.
PG – Jason Terry ($3,300): With very limited fantasy plays in this contest it will simply come down to which of the role players makes the biggest contributions. Terry showed in the Los Angeles Clippers series he can post 20 point fantasy perofrmances.
SG – Klay Thompson ($7,000): After going with Harden yesterday we elected to go with Thompson tonight. Our only concern with going with Thompson in this game is how many opportunities he will get with Curry wanting to take control of the game early
SG – Kent Bazemore ($2,400): As the team embraces for a different lineup incase DeMarre Carroll cannot go. The stock for Bazemore slowly rises making him a nice FanDuel bargain.
SF – LeBron James ($11,700): Yes our lineup for Friday night is set up somewhat different that being said there is no way any fantasy owner should leave James off of their roster. James will do everything in his power to lead the Cavaliers to another win to move the series to 2-0 as they return home with a chance to close out the series.
SF – Andre Iguodala ($4,000): If we could only get the Iguodala we saw back when he played for the Philadelphia 76ers. In the end we need the Warriors small forward to contribute at least 20 plus fantasy points.
PF – Paul Millsap ($8,700): With Carroll injured the Hawks will need a huge game from Millsap if they want to avoid falling down two heading to Cleveland. Millsap is a frustrating player who will drop a few 30 plus fantasy performances but let you down with that 20 point performance from time to time.
PF – Terrence Jones ($4,500): The Rockets will need a big game from nearly every member of their roster after falling down by two games as the series shifts back to Houston. For us we also need Jones to have a big game to help carry our fantasy roster.
C – Al Horford ($7,800): Horford was out played down low by the Cavaliers big man. We don't expect this to happen in game 2 as we fully expect a huge game from the Hawks big man to help try to even the series up at one game apiece.