Fantasy leagues have really gained much interest from fans across the country but also from all around the world. Basketball, football and baseball are just three of the most popular fantasy sports around the world. Owning a fantasy team is a great hobby for lots of fans but it is also a hobby which can pay their rent, if they find success. No matter if you own a fantasy team with the purpose of earning some cash or just for fun, you obviously want to win. In order to at least increase your chances, you have to get some valuable info about your fantasy team: updates, performance, and winning streaks.
However, what might be even more important is to get the right mindset, all the tips and little secrets that will help your fantasy team get better. You have to read and listen the real gurus' opinions and advice for you fantasy team and league. One of the best in the business, if not the best, is Matthew Berry.
If it's the first time you hear about his name, then you are obviously missing much valuable info for your fantasy team, no matter what sport you are participating in. Matthew Berry is a star when it comes to fantasy leagues. At the moment he is a senior fantasy analyst for the ESPN, a member of the FSWA and FSTA Hall of Fame and he is also the author of the best-seller "Fantasy Life".
Still not impressed?
Well, keep in mind that Matthew Berry is the host of the daily podcast "Fantasy Focus" and he also appears on several TV and radio shows. He mainly analyses the NFL and also baseball, but of course he provides valuable information for NBA, too. He has also won an Emmy Award for his work on "Fantasy Football Now".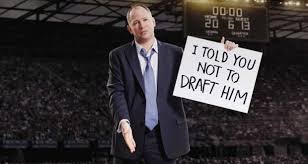 In essence Matthew Berry is a guy you have to watch, read of, and listen to if you are a fantasy owner. Even if you don't become his regular fan, you can at least read his analysis a few times, just to get new ideas or a new perspective of your fantasy team. Talented Mr.Roto, as he is also known, has also contributed for lots of other major sports and news media across the country and he has earned the admiration of media like the New York Times, which described him as "fantasy savant".
You should have already realized that Matthew Berry is an analyst to look up to now, but what is that extra thing that makes him so special? Can he really make you a better fantasy owner and increase your chances to have a successful fantasy team?
The truth is that when it comes to fantasy sports, it's one thing to just read the stats, the updates and the scouting reports and a totally different to really be able to see beneath the numbers. Having a deep understanding of the game, whichever it is, but also of the player and even team-owner mentality is crucial. It's also very important for any analyst to see the whole picture, to understand how a change, an evolution in one player's performance can affect the rest of his team or even the opponents and the rest of the league.
You see, fantasy basketball or football or baseball or you name it, it's not just about reading the stats. Ok, anyone can go out, log in to a major website like ESPN, which has analytic stats and numbers and pick his or her fantasy selections. It's simple, right? The biggest numbers are the ones which usually win, right?
Maybe not. Constructing and maintaining a fantasy team goes above and beyond just drafting players who recorded a great season or some great games. It requires deep knowledge, maybe some history knowledge about each sport, too. Only then will you able to make this selection that no one else could imagine would work well. Big names and superstars will most usually deliver. The key to make the difference is to draft or trade for this players who perform better than expected. And on top of that, you will have to know which of the best players really have the most fantasy value.
All these require experience, devotion to fantasy leagues and also some talent and Matthew Berry has the complete package. In a way, I can say that this guy has a high fantasy IQ. He just knows when you have to go ahead and make a move or back up when everyone else thinks you should go for it.
Once again, if you are new to fantasy leagues, no matter which sport you are into, I'd strongly suggest you go ahead and watch some of Talented Mr.Roto's videos and read some of his analysis. You will only benefit from his experience. On the other hand, if you are a veteran and you already own a team, which might have found some success, but you want to take it to the next level, you can refresh your strategy and learn something new by Matthew Berry's advice.