The second in our on-going interview feature is a special one. This week we turn our attention to Sports Journalist Extraordinaire Jen Royle. Jen is an Emmy winning sports reporter presently at the Boston Herald and has appeared on everything from WEEI Sport Radio, CBS Radio's 98.5 The Sports Hub, SB Nation and ESPN.
She covered the New York Yankees and before relocating back to her hometown of Boston in 2012 she spent two years in Baltimore covering the Ravens and Orioles appearing on both CBS Radio's 105.7 "The Fan" in Baltimore and the Mid Atlantic Sports Network (MASN).
She recently started her own company, SportsReelBoston.com, providing the latest news, video and features on the Boston Red Sox.
Jen has always been a great sport with us and was extremely accommodating answering our questions giving us an insight to her world which we must say is amazing. What is more amazing is Jen and her great charisma and personality that comes out in answering our questions as well as the interesting road that has brought her back home to Boston.
Rotoguys: Firstly, for the record we have playfully teased you on twitter during the Habs-Bruins series which you took in stride but surprisingly despite being from Boston you are not a Bruins fan…what was your favorite team growing up (across all sports).
Jen Royle: Haha. The Bruins. But that was a LONG time ago. I grew up in the suburbs of Boston but my father made sure myself and my brothers attended Red Sox and Bruins games. We weren't into the Celtics or the Patriots much, but the B's and the Sox were a big part of our family. For some reason, I became a huge Bruins fan around the age of 13 and was devoted until I went off to college in 1992. Perfect timing… I think they really started to stink then. I was a big Ken Linseman fan, shocker, right? I mean, of course I am the fan of the little rat who caused the most trouble on the ice. I loved Cam Neely, Gordy Kluzak, Stevie Kasper, etc. Ironically, I would end up interviewing Cam Neely for the Boston Herald on camera 20 years later. The think is… I cherished that interview and was so honored and thrilled to sit with him. It meant so much to me and actually made me nervous. It's been a while since I've been nervous during an interview, but Cam Neely certainly bought me back to my childhood days and made me appreciate how far I've come.
Rotoguys: You have quite the resume filled with impressive experiences in different cities, accolades including an Emmy and the opportunity to interview some of the most well known athletes. Is the passion journalism or sports? Were you a sports fan seeking to work in the industry or was it a passion for journalism that led you to sports?
Jen Royle: Such a great question. I always told myself I wanted a job where I brought my computer to the ballpark. I swear I made that up in my head. I didn't even know those jobs existed. I was always a good writer, as was my older brother Chris. I have no problems putting my feelings and thoughts on paper and my personality, as you guys know, is a bit off the charts. So once I started writing, I realized that if I just be myself and write how I talk, people will read. I go my job with the YES Network in New York City as a freelance writer in 2003, that was my first year writing sports columns. And they were crappy topics/assignments, but I was happy to be employed by a major network even though I had a HUGE job with Liz Claiborne as head of one of their Public Relations divisions already. Oh yes!

Jake Peavy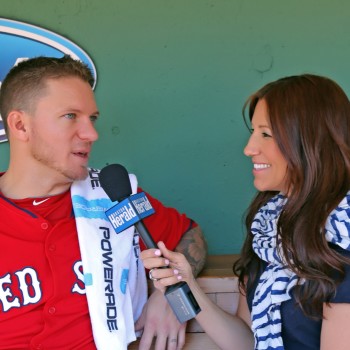 After the 2003 season, YES's head writer for the team left for NFL Films and I was offered his job, which of course I accepted. I gave my two weeks notice at Liz Claiborne and it was all somewhat uphill from there. I was clueless. I refuse to deny it. Yes, I was from Boston, knew a lot about baseball, and had a personality that didn't allow me to be intimidated, but I didn't really know what I was doing. There was a huge learning curve for me and nobody helped me. I didn't have a female mentor or a role model that could guide me. In fact, I think other women in the business were kind of mean to me and secretly hoped I failed. But I didn't. I don't think. I ended up spending seven years with the Yankees. It was an incredible experience and I'm so proud of myself for succeeding in a male-dominated environment. I was a writer on a tough beat with a tough group of guys in a tough city. I didn't fail, but I didn't shine. I blended.
I became really close to Mariano Rivera during my time with the Yankees and he helped me so much. He would hear if I was at a bar on the road or if I was talking too much to a player he didn't like… he would yell at me and tell me I needed to clean up my act. My father passed away in 2006 and Mo was one of my biggest supporters during that time, as was the whole organization. The largest bouquet of flowers at my father's funeral was from the "New York Yankees." It must have had about… I'd say 250 red roses. It was astonishing. My poor father was a die hard Red Sox fan and everyone at his wake and funeral were talking about the dreadful red roses from the Evil Empire. Carl Pavano and some of the pitchers sent flowers too, so that made me feel like people looked at me as more than a team reporter. I was a person.
Once they won the World Series in 2009 I knew it was time to move on. I had been offered a big job in Baltimore covering the Orioles and the Ravens. I had never covered football or anything other than baseball so I was looking forward to the new experience. I was ready to leave New York. It had been 10 years and I wasn't saving any money! I was living in a lovely apartment in Greenwich Village, but I was 36 and was ready to have a closet big enough to hold ALL my clothes, not just half of them.
Baltimore was awful. I'll leave it at that. I would probably do some things differently if I had the chance to do it all over again. I mean, I wouldn't change a single thing about work or the work I did, but I probably wouldn't have paid so much attention to social media. But ya know what, sometimes you have to learn things the hard way. Overall, Baltimore made me a better person and it prepared me for Boston.
I will say this, however. Covering the Ravens for two years and experiencing covering an NFL team so closely was INCREDIBLE. I loved loved loved my time with the Ravens and getting to know the players and coaches on a daily basis and I still keep in touch with some of the guys as well as Coach Harbaugh. I loved going to work everyday at the Ravens facility and I look back at my time with the Ravens fondly. It was just an awesome awesome awesome two years with those guys.
Rotoguys: You have worked in New York and Baltimore and returned to Boston .. What was it like returning home ..was it an easy decision?
Jen Royle: It was a very easy decision. I had gotten calls from WEEI, NESN and Comcast. I was already working for CBS Radio in Baltimore so I knew I could at least get an interview at 98.5 The Sports Hub. I knew in my heart I had to get the hell out of that town. I wasn't growing as a person at all. I wasn't learning anything new and I wasn't happy. I had friends and I loved my co-workers but it just wasn't my speed. I didn't like the food, the shopping, the bar scene… anything. I didn't want to date anyone because I knew I would be leaving. It was just a dark time for me. But because of all this, I ended up getting my puppy, Truman, who is the love of my life. My bulldog helped me get through that time in my life and I now have a whole new respect for animals. He's my best buddy and I can't imagine life without him!
Rotoguys: I have had the opportunity to attend games at landmark sporting venues such as the old Yankee Stadium, Maracana in Brazil, Old Trafford in Manchester, the old Hockey Forum in Montreal and Wrigley Field and I must say that Fenway was the most memorable experience as a sports fan…While we know you have stated a few times you are a not RedSox fan and neither am I (!) do you agree that Fenway has that unique quality among ballparks and sporting venues and is it still present (the magic of Fenway) even when you are there on an almost daily basis?
Jen Royle: My friend once told me, "The lights shine a little brighter at Fenway." Not a day/night goes by that I don't enter Gate D with my media pass and think, "I am so God damn lucky." I think that answers the question.
Rotoguys:. Considering all the high profiled athletes you have interviewed from David Ortiz to Alex Rodriguez, Reggie Jackson to Joe Torre is there one that will always stand out for you?
Jen Royle: Ahhh… a lot of people ask me this and I have a terrible answer. Nobody. I'm not in awe of these guys. At all. I do a lot of five-minute exclusive sit-down interview on camera, that's been primarily my gig for eight years or so between YES, MASN and now The Herald. There are interviews where I can't stop smiling that stand out, for sure. But also, seeing that person/athlete months or a year later and getting a hug… That's when you know you did a good job and they respected your questions and your work. I would say Andrew Bailey was a good interview. He had just won Rookie of the Year and I sat with him in Baltimore in 2010. He was so sweet and I remember telling him I hope he never changes. He ended up signing with the Red Sox a few years later so it was cool to reunite with him and have a buddy I could go to if I needed anything. I interviewed Mike Napoli in 2008 and he is now one of my best friends on Earth. I don't keep it a secret… it's impossible. He's now here in Boston so it's been great to have him close. We have a wonderful friendship and I tell him pretty much everything… he doesn't judge me and he helps me with my guy problems and all that stuff. He's a GREAT person and his family is even better.
I'm sure there are more but for now, those two come to mind.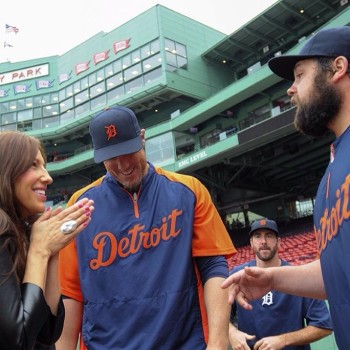 Rotoguys: You have also covered some memorable games. Which game stands out the most in your career?
Jen Royle: Well Game 6 of the 2009 World Series when the Yankees won it all was amazing. The players had already celebrated clinching the playoffs and winning the ALDS and ALCS, so by the time the champaign rolled out for the World Series victory, it was just silly. Robinson Cano and Melky Cabrera ripped my plastic poncho off and absolutely drenched me. It was cool to be in there with Jeter, ARod, Rivera, Pettitte, etc… it was certainly a night I'll never forget. I was lucky enough to also cover the 2013 Red Sox World Series. For me, I had only been with the team sporadically that year so it didn't mean as much to me, but of course I was happy for Mike.
The scoreless 13 inning game against the Red Sox and Yankees in 2004 when Jeter dove into the stands was probably one of the best games I've covered. It just stands out to me. I was always comfortable at Yankee Stadium because I had the same seat for seven years. Sweeny Murti from WFAN was always to the right of me and Andrew Marchand from ESPN was to my left. We were in the front row at the new stadium on the radio side of things so we had fun sitting up there and working. The new press box in the new stadium was spectacular. But yeah, that game was pretty cool to cover, for sure.
Rotoguys: What can you tell us about your project SportsReelBoston?
Jen Royle: Well… I just thought I should start a website where I could have a blog and maybe a few other writers gabbing about Boston sports. I didn't know it would blow up to be what it is… not that it's this spectacular money-making site or anything. I had this idea to have some former MLB players and GM's contribute columns, so I got my buddies Jim Duquette and Alex Cora on board and we started to put some pieces together. That grew and I got Rick Dempsey, Wes Helms, Frank Catalanotto on board. Then I took it a step further and found all these talented young writers to join my team… Joon Lee was one. He ended up becoming an intern at The Herald and is now interning at WEEI. My goal was honestly to get these kids some exposure and to help promote them, and I think I've done a good job of that. I don't deal with the former athletes as much because I got too busy with my own work, but I have about 15 talented writers up on the site writing about everything Boston sports and I'm really proud of the product.
Rotoguys: Between attending events, interviewing ball players, etc. many sports fan would give anything for your job so we ask: what is in fact the best part of your job?
Jen Royle: The best part of my job… Hmm… I would say being in an environment that most people only dream about. When the baseball game is over and David Ortiz hits a walk off homer, I'm in the locker room within 10 minutes of that hit. It's fun to be around the guys when they are smiling and happy… and to have your mic in Ortiz's face while your asking a question can be a rush sometimes. It's also cool to be in the locker room or dugout with the guys during down time. If you cover a good team, which I do, the players can be really fun to be around. I work well with men and have always gravitated more towards guy friends than girl friends, so it's a perfect environment for me. Oddly enough, I also enjoy covering tough losses. I enjoy being around the tension and having the challenge of interviewing somebody that isn't in a great mood. The whole experience is very rewarding and I don't forget for one second how lucky I am do to what I do. Trust me.
Rotoguys: Lastly, we must ask: are you in any fantasy leagues?!
No. I suck at fantasy. End of story.
Thank you Jen for your time as always. You can follow Jen Royle on twitter @Jen_Royle and check out SportsReelBoston.com.