The time has arrived for the biggest game of the entire 2015 NFL Season as Super Bowl 50 kicks off on Sunday Night. While we have ran out of chances to cash in on some NFL FanDuel action it won't stop us from taking a look at a few of the Super Bowl prop bets that everyone likes to take a gamble with. Meanwhile, if you insist on playing some fantasy football today visit FanPicks. They are the only DFS site to offer CROSS SPORT fantasy action.
Over the years we have seen some pretty crazy prop bets pop up during the Super Bowl. These bets stem from how long the Super Bowl Halftime Show will last, what color dress Katy Perry would come out to start the halftime show and even what color hoodie will Bill Belichick would wear during the big game.
This year the Super Bowl will feature one of the greatest quarterbacks of All-Time verses the 2015 NFL MVP. Those two quarterbacks are Peyton Manning who will lead his Denver Broncos against Cam Newton and the Carolina Panthers. That being said this game will come down to whichever teams defense makes the bigger play.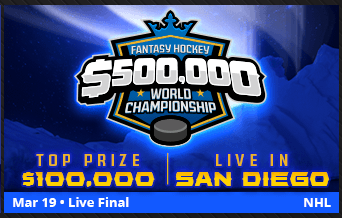 The top NFL Super Bowl Prop Bets we like heading in to Super Bowl 50.
Will Peyton Manning announce his retirement after Super Bowl 50: This prop bet might be one of the best one to look at as we don't believe win or lose an announcement like that will come from Peyton Manning after one of the biggest games of his career. That being said if Manning does say yes it would pay out $500 dollars on a $100 dollar bet.
How many times will Archie Manning be shown on TV during Super Bowl 50: While this is one of those prop bets you really have to look deeper into as this does not include halftime. As we all know Archie is the face behind the Manning Saga from not wanting Eli to play in San Diego to just what he thinks about Peyton's future. Now this prop bet won't be paying big money but it will pay straight up if you win.
Which team will score first in the game: For many the first thought here is to go with the red hot Panthers and Cam Newton. That isn't the case for us as we like the Broncos to score first during Super Bowl 50. While Manning might not be the old Peyton Manning he will be playing behind the leagues top defenses. A $100 bet on the Broncos scoring first would return you a $120.
Will Brandon McManus or Graham Gano miss an extra point during Super Bowl 50: This one is more of a gamble type of sports bet but one that might be worth the gamble much like we would take building one of our daily fantasy lineups for FanDuel. Now before you rule this one out we have already seen one of the best kickers in the NFL in Stephen Gostkowski miss one during the postseason. This prop bet would return you $325 on a $100 dollar bet if one of these kickers miss an extra point.
In the end while the list of Super Bowl Prop Bets are always an interesting list to look at, the big question we all want to know is which of these two teams will win the Super Bowl?