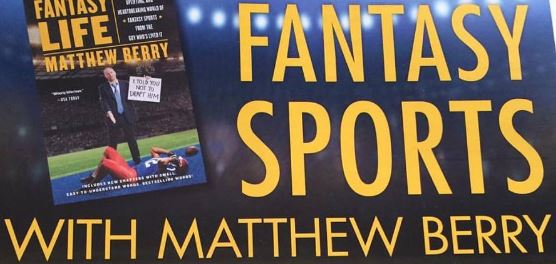 Ever wanted to work in Hollywood?  How about at ESPN?  Dreamed of having a New York Times best selling book?  What about owning an award winning website?  Even accomplishing one of the above in a lifetime is a monumental achievement but do not tell that to daily fantasy sports guru and pioneer Matthew Berry who has done all of the above and more.  Lets take a look at the life of daily fantasy sports extraordinaire, Matthew Berry to see what makes the man so great in order to draw inspiration and motivation into our own daily fantasy sports lives.
Matthew Berry – The Early Years
Matthew J. Berry was born December 29, 1969 in Denver Colorado.  Moving around as a child to places like Richmond, Virginia, Atlanta, Georgia, and Charlottesville, Virginia allowed Berry to immerse himself in a variety of sports markets and environments.  Finally settling down by the age of 12 to adulthood Berry found himself a College Station, Texas resident and an integral part of a thriving sports community.  A product of a mother who was the mayor of the city and a father who was a professor for Texas A&M Matthew comes from a strong background in intellect and hard work.  Eventually graduating from Syracuse University in 1992 it was from here that he began to build the foundation for one of the greatest daily fantasy sports minds we have ever seen.
Matthew Berry – A Fantasy Sports Star Is Born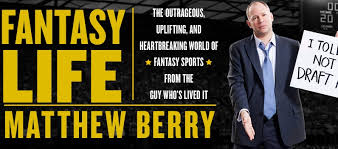 After getting his start in Hollywood, writing scripts and screenplays for such movies and TV shows as "Married With Children" Berry soon found himself disenchanted with the industry politics.  A fantasy sports enthusiast since the age of 14 he soon started investigating ways to combine his passion for writing with his love of all things that included competition.  As it had in the past his drive and persistence finally paid off landing him a writing gig from 1999 to 2003 with Rotoworld who was one of the biggest daily fantasy sports innovators at the time.  Soon outgrowing his position at Rotoworld he began looking for other outlets to curate his love for fantasy sports which lead him to create RotoPass.com, a fantasy sports website that aggregates multiple fantasy sports sites, and the TalentedMrRoto.com, a fantasy content site.  Popularity and success were found almost immediately making Berry one of the top experts on the topics of fantasy sports giving him the platforms and channels needed to pioneer the analysis, promotion and growth of the burgeoning new industry that was fantasy sports.
Matthew Berry – A Fantasy Sports Pioneer Legend Grows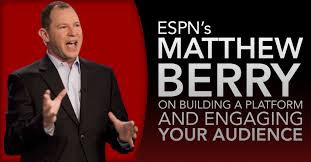 After catching the attention of ESPN and doing guest media spots on ESPN Radio, ESPNEWS, ESPN The Magazine and more Berry was fast becoming one of the premiere analysts and experts of fantasy sports culture.  Upon constantly impressing ESPN brass the company finally decided to purchase the TalentedMrRoto.com and hired Berry full time as director of fantasy sports in February 2007.  Specializing in fantasy sports football and now a rising star on the leading sports network Berry saw his opportunities rise to new heights.  Finding himself regularly on ESPN television, radio and content shows such as NFL Sunday Countdown, SportsCenter, NFL Live, Olbermann, Baseball Tonight, Football Today, First Take, ESPN SportsNation, Mike & Mike in The Morning, Berry's talent was now shinning in front of millions of fans.  All of this new found attention eventually lead to the creation of in 2007, of the "Fantasy Focus Baseball Podcast" and the "Fantasy Focus Football Podcast" of which Berry was a full time host of both.  Now a full fledged fantasy sports superstar he continues to not only impress but push the limits of content and analysis.
Matthew Berry – The Current Fantasy Sports Superstar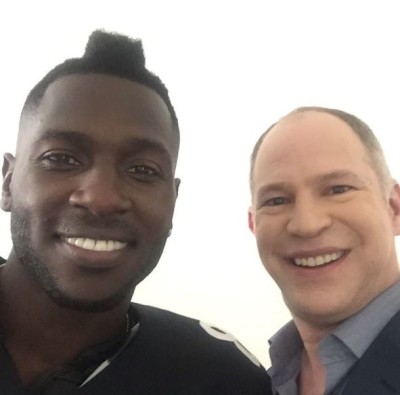 In addition to his many media appearances Matthew Berry currently writes a plethora of popular fantasy sports articles annually for what is now known as "ESPN's Fantasy Football Draft Kit".  There is "100 Facts", the "Draft Day Manifesto," the pre-draft Love/Hate list and a top 200 rankings and individual position rankings for the NFL which are all part of his wildly accredited career.    Past awards and accolades include a New York Times Bestseller book ''Fantasy Life'', a Sports Emmy Award for Outstanding New Approach, induction into the Fantasy Sports Trade Association Hall of Fame (2012), induction into the Fantasy Sports Writer Association Hall of Fame (2010), Five-time Fantasy Sports Writers Association Awards (2005-06) winner, Writer of the Year (Basketball), Best Article on the Web (Football), Most Humorous Article, Best Major Media Article (Baseball), Five-time Podcast Awards Winner (w/ co-host Nate Ravitz), and a People's Choice two time award winner (2009, '12) Fantasy Sports Writers Award (FSWA) award winner, and a four Fantasy Sports Trade Association (FSTA) award winner.  Once an opening act for Dennis Miller, a production assistant for The George Carlin Show on Fox, a Warner Brothers Writer's Workshop attendee, an extra on the soap opera ''One Life to Live'', a featured segment on ''Dancing with the Stars'', and a guest on the TV sitcom "The League" it is clear Berry has lived a storied life that now puts fantasy sports analysis at the forefront of his efforts.
Matthew Berry currently calls Connecticut home with his wife, Beth Berry (who also works for ESPN), and five children.  So what can we learn from this amazing life dedicated to fantasy sports.  First we can see the rewards that can come with dedicating your time and energy to following your interests.  Pursuit of a passion can lead to great things and it is this knowledge that we can incorporate into our own daily fantasy sports analysis in hopes of motivating us even more to put in the hard work and deep analysis it takes to come out on the winning side of DFS.  Another great message we can gleam from Matthew Berry's life is that chasing your dreams is not a futile endeavor.  Achieving your goals is possible through focused efforts and strategic partnerships.  The takeaway… Starting at the bottom of daily fantasy sports and working your way to the top is an attainable achievement and Matthew Berry is living proof of this.  Looking to make your mark on the daily fantasy sports world?  Sign up for a DraftKings, FanDuel or FantasyAces daily fantasy sports account today and start your journey to becoming the best fantasy sports analysis you can be.