Once just a hobby among die hard fans, fantasy football is now finally making a mainstream impact.  With larger prize pools and more money guaranteed to be paid out then ever before, the 2013-14 NFL season is set to become a banner year for daily fantasy sports.  As records are certain to be broken and new millionaires and champions made, this yearly game of lore between inner circles is now a daily and weekly public battle of both friend and foe.  As a test of football knowledge and applied thinking, football daily fantasy sports is now expanding to levels not imaginable just a few kick offs ago.  The thrill of risk and reward combined with sports has always been appealing and daily fantasy sports is only developing this dynamic into a fascinatingly new diagram of sports entertainment.  If you are new to daily fantasy sports or even an experienced veteran now is the time to enjoy what the 2013-14 football daily fantasy sports season has to offer.  Thinking about trying daily fantasy sports this 2013-14 NFL season?  Lets look at the top 3 FREE chances to enjoy this exciting new form of sports entertainment.
1. Fantasy Aces – (FREE) NFL $1,000 KICKOFF • [9/7/2014]:

Putting $1000 on the line for free the opening weekend of the 2013-14 NFL daily fantasy sports season  shows that Fantasy Aces is serious about becoming a number one player choice.  One of the best daily fantasy sports options available, Fantasy Aces is a industry veteran and there platform is every bit indicative of that.  Always running a first class operation with lots of bonuses, promotions, features and player support there is no question that Fantasy Faces puts an emphasis on making the the daily fantasy football gaming experience enjoyable for everyone.  Want to play Fantasy Aces daily fantasy football sports for FREE to win real money?  Opening NFL weekend is a great time to do just that as they are offering an amazing $1000 NFL daily fantasy sports freeroll to the first 5000 entrants that sign up.
Fantasy Aces – (FREE) NFL $1,000 Kickoff Top 10 Payouts:
1st: $150.00
2nd: $80.00
3rd: $40.00
4th: $30.00
5th: $20.00
6th: $20.00
7th: $20.00
8th: $20.00
9th: $20.00
10th: $20.00





2. Drafster – (FREE) $1,000 NFL FREE ROLL • [9/7/2014] and [9/14/2014]:

Equally as generous as Fantasy Aces and even extending the spoils over the first two weekends of NFL football, the Draftster (FREE) $1,000 NFL FREE ROLL this September 7th and 14th is sure to make a lot daily fantasy sports fans happy.  A relative newcomer to the dailyfantasy sports scene, Drafster is poised to make a huge impression on all of those excited about fantasy sports.  Playing fantasy sports for real money is hard to resist and Drafster makes the game even sweeter with two $1000 NFL daily fantasy sports free rolls.  Boasting an easy to use software interface, first class support and lots of perks there is no reason not to shoot at the $200 up top in this great opening day 2013-14 NFL fantasy football season.  Will your skills land you #1?
Drafster – (FREE) $1,000 NFL FREE ROLL  Payout Structure:
$200.00 1st Place
$100.00 2nd Place
$50.00 3rd Place
$5.00 4-133 Place
Drafster – (FREE) $500 NFL FREE ROLL  Payout Structure:
1st:         $97.50
2nd:        $61.25
3rd:        $42.50
4th:         $32.50
5th:         $25.00
6th:         $18.50
7th:         $13.50
8th:         $11.00
9th:         $8.50
10th         $6.50

3. Star Fantasy Leagues – (FREE) $500 NFL FREE ROLL • [9/7/2014]:


Rounding out the top 3 best opening weekend NFL daily fantasy sports free rolls and stepping up to the line of scrimmage to put $500 of there own money on the line will be Star Fantasy Leagues.  Known for there wide variety games, great customer service and amazing promotions it is no surprise to see SFL starting out the football season with a nice give back to the players.  Adding a new twist to weekly fantasy football matchups, Star Fantasy leagues is also offering season long games.  Regardless of which type of sport or game you like, giving Star Fantasy Leagues a punt is worth the chance to give the site and the daily fantasy sports hobby a try out for free.  The best part is these $500 free rolls will be every week at SFL!

Bonus Daily Fantasy Sports FREEROLL:

24/7 Drafts – (FREE) $250 NFL FREE ROLL • [9/7/2014]: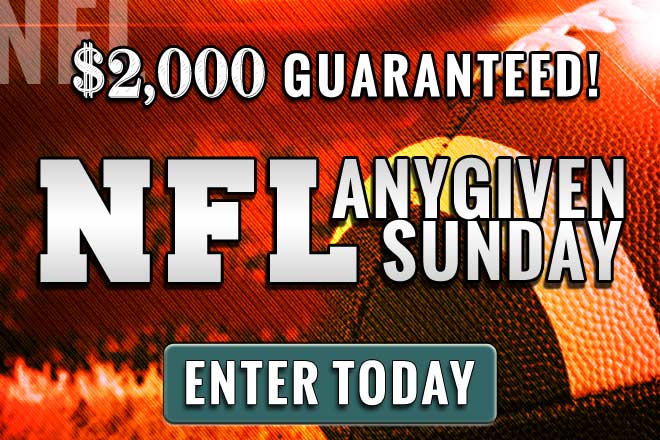 To summarize, regardless if you are daily fantasy sports newcomer or a chiseled veteran the lure of a good free roll or chance to experience a new playing platform at no cost should be too hard to pass up.  As $1000's of dollars are up for grabs for free and millions for paid leagues there is no telling the riches that await for those willing to jump on the fantasy field this football season.  After all they are daily fantasy sports free rolls.  What do you have to lose?