If you have not heard yet, FanDaction became one of the first DFS operators ever to offer daily fantasy sports horse racing and wow it is a lot of fun to play.  Anytime a new sport or game type is released in daily fantasy sports its an exciting time for all to not only learn something new but also an opportunity to find a new avenue for sports entertainment and profit.  With lots and lots of free daily fantasy sports horse racing games going on at FanDaction there is really no reason not to give them a try.  The start of a new year is the perfect time to try new things and FanDaction daily fantasy sports horse racing is a chance to do just that.  If you are planning to expand your daily fantasy sports playing options by trying out the FanDaction DFS platform lets take a look at a few of the beginner strategies we can use in our quests to build winning daily fantasy sports horse racing lineups at FanDaction.
Horse Racing Lineup Building Strategy #1 – Look At The Odds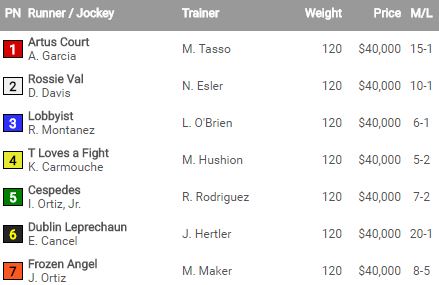 First thing you will want to do is to find a Horse Racing odds source that you like.  One we use frequently is US Racing ( https://www.usracing.com/odds ).  Once you find a source you are comfortable with then you can start formulating the predicted likelihood of each horse winning.  Horse betting odds are most commonly listed as fractions i.e. 6/1 or 7/2.  Once we have the information in front of us we we can then calculate the winning percentage chance of our picks.  You can extrapolate the percentage chance of any odds by adding the right hand side to the left hand side then dividing the total number by the right side. Our 7/2 odds example above would calculate out the following, add the 2 to the 7 giving 9 and divide 2 by 9 which gives us 0.222 or 22.2%.  The higher the percentage the better the chance a horse has to win so when building our daily fantasy sports lineups we often want to almost always go with the highest percentage chance of winning horses as our picks.
---
Horse Racing Lineup Building Strategy #2 – Look At Recent Finishes


One awesome aspect of the FanDaction daily fantasy sports platform horse racing interface is the fact that gives you recent stats accessible in game in an easy to read format.  If you do find a few horses you like from a single race with comparable odds and are on the fence about who to pick these stats can be a great way to gather extra information for your decision making.  One of our favorite stats to look at is recent finishes from past races.  A horse that is consistently placing in high spots can be a lot more appealing then a horse that has a history of underperforming or one that has a sporadic record and highly unpredictable results.  Focusing on horses with strong past track records can be a great way to select your way into the winners circle.
---
Horse Racing Lineup Building Strategy #3 – Pick Your Favorite Name

One of the best aspects of horse racing is all the amazing names that the horses have.  Names like "Tree Shaker", "Never Indicted" and "Phantom Shot" are just the tip of the iceberg when it comes to the racing participants and really add a fun aspect to this type of daily fantasy sports.  While in reality there is no reason or basis behind picking a horse by its name it can be a fun way to lighten up any contest or match up for yourself by getting to root for a horses name that touches you or has some type of connection or meaning to you.  As a last resort and if you are just messing around with the free daily fantasy sports horse racing games on FanDaction feel free to make a pick on name alone and have a blast rooting on your favorite horse to the finish line.  This strategy of course is not recommended for real money games but can be a great way to add in some extra entertainment value when appropriate.
Will you be playing any new types of daily fantasy sports formats similar to the FanDaction horse racing offerings in 2017?