Strategies
Andrew McCutchen and the Pittsburgh Pirates




Andrew McCutchen has been performing at MVP levels once again this season despite going under the radar. It's unfortunate that due to the Pirates brutal season McCutchen can't even crack the top three among outfielder All-Star voting. McCutchen is now hitting .309/.423/.509, pretty much identical to 2013's .313/.404/.508. There's been more hype and discussion surrounding Gregory Polanco instead of hearing McCutchen's name amongst MVP candidates.
A definite sign of a great player is when they play at a high level and no one notices because they have become accustomed to seeing that player perform. For instance, Henry Aaron played at MVP-level for twenty years but only won one MVP award early in his career.
The attention seems to be centered on Yasiel Puig and Giancarlo Stanton. Puig is a monster who is hitting better than last season, and Stanton is carrying the Marlins with his bat and great defensive catches in right field. Even Carlos Gomez, who is third in All-Star voting, has gotten more attention with this speed and power.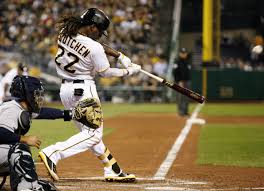 All McCutchen does his hit, play solid defense, draws walks, steal bases, and seldom misses a game. He's smart on the base paths and does everything well. All four players mentioned have had excellent campaigns so it's hard to leave one off the All-Star roster. Here are the numbers:
* Puig (1,472,717 votes): .333/.430/.584, 11 HR, 40 RBIs, 34 runs, 6 SB, -2 Defensive Runs Saved, 2.8 WAR (DRS and WAR entering Monday)
* Stanton (1,259,047 votes): .301/.393/.589, 17 HR, 53 RBIs, 47 runs, 4 SB, 14 DRS, 4.3 WAR
* Gomez (1,192,174 votes: .307/.376/.554, 12 HR, 35 RBIs, 42 runs, 11 SB, 0 DRS, 2.5 WAR
* McCutchen (1,190,516 votes): .309/.423/.509, 8 HR, 31 RBIs, 33 runs, 7 SB, -2 DRS, 2.8 WAR
Stanton's defensive numbers stand out in the pack with fourteen Defensive Runs Saved. Both McCutchen and Gomez haven't been as good in the outfield as last season. McCutchen had 11 assists last year and has yet to record one this year. As for the offense, McCutchen's home run and RBI tallies fall short but that is due to the fact that he doesn't have much help around him and plays in a tough home run park, especially for right-handed hitters. Although he has 31 RBIs he's hitting .327/.444/.551 with runners in scoring position.
Tough to leave someone out but I'd pick go Stanton, Puig and McCutchen. On the bright side, the player excluded gets to DH since the game will be in an American League ballpark.