Strategies
Biggest takeaways from week 16
This hasn't been an easy season to endure. Ask Julio Jones owners, who had a foot injury. Or maybe you can ask those who picked Arian Foster who had a nasty back injury, Doug Martin injured his shoulder, or maybe C.J.Spiller, Ray Rice and Trent Richardson in the first round. Winning your fantasy football leagues is more about surviving week to week than celebrating your drafting genius. We recap Week 16, the time of the season that most fantasy leagues decide their championships, with the top takeaways and an eye toward 2014, if not the remaining season finales.
This takeaway was going to announce rookie Eddie Lucy as a 100% sure fire first-round pick for 2014. Instead, he left the game with a worsened condition of his ankle injury, according to the Milwaukee Journal Sentinel's Tom Silverstein, leaving his Week 17 status in question. His absence for a winner take all match next week with the Chicago Bears will be disappointing. In any case, the Bears have the worst run defense in football hands down.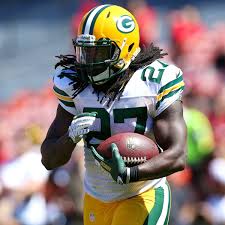 James Starks would get the start next week if Lacy can't rejuvenate until then. Starks, available in over 50 percent of CBS Sports leagues, would be a must-start option in all leagues in that matchup. Kahlil Bell would be the backup, remember, since rookie Johnathan Franklin was placed on season-ending injured reserve with post-concussion syndrome.
Eagles' McCoy Secures the No.2 Spot, so if Jamaal Charles clinched No. 1 spot for 2014 with his amazing Week 16 performance, LeSean McCoy claimed the No. 2 spot for his focused play on Sunday. McCoy led an unstoppable Philadelphia Eagles rushing attack with 18 carries for 133 yards and two touchdowns. He added 29 yards receiving on six receptions, as well.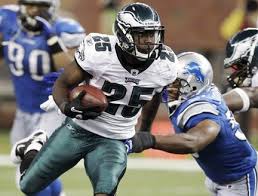 Like Charles, McCoy is more of a  dynamic back in a favorable offense. As much as can be made of Nick Foles' emergence under offensive guru Chip Kelly, it is the running game that makes the Eagles so good. Philadelphia Eagles have the No. 1 rushing offense in football right now, with 161.9 yards per game. Picking McCoy right behind Charles next year will force fantasy owners to skip over Adrian Peterson, but experienced running back player is turning 29 in March, and Charles will be the prime age of 26 next year, while McCoy will turn 26 in July.
Lost in yet another mediocre Dallas Cowboys season has been the health and consistency of DeMarco Murray. He went over 100 combined yards with two touchdowns, including a clutched one late against the Redskins. The third-year back has cracked the 1,000-yard mark with 10 combined touchdowns. It won't be enough to put him in the Charles-McCoy-Peterson level among fantasy picks, but it does make him a first round pick. It is not the matter of is he producing or not with Murray. It is about his health. Murray is going to play a 14th game for the first time in his career. At 26 next year, he should be in for a career year in 2014.