Strategies
Breaking down the Golden State Warriors' fantasy potential

The Golden State Warriors are a team with lots of potential this season. After a breakaway in 2012-2013, when the team made its presence felt, the Warriors are looking to make the next step this season and contend for a championship. They do have a roster that will allow them to be very competitive. Let's break down their most significant players and how well they can perform this season.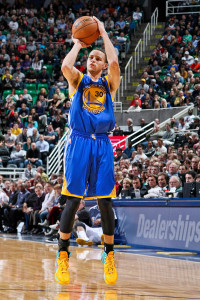 The team's starting point guard, Stephen Curry, will be a player to watch this season. After breaking the NBA record for most three-pointers made during the previous season, the 25-year old point guard filled the stats sheet last season almost every night. He averaged 22.3 PPG, 6.9 APG and 4.0 RPG. He also shot 45.1% from the field and 45.3% from downtown. If he continues to perform like this in 2013-2014 he will be a valuable member of any fantasy team. There are some injury concerns, however, he will still be one of the best long-rang shooters in the NBA and will make fantasy owners happy.
His fellow guard and fellow sharpshooter, Klay Thompson, finished the previous season with 16.4 points, shooting 42.2% from the floor and 40.1% from long range. He also added 3.7 rebounds and 2.2 assists. He is just entering his third season in the NBA, which means that lots of great things are yet to come. Look for Thompson to become even better and improve his numbers next season.
The newcomer star, Andre Iguodala is projected to be the icing on the cake for this Golden State Warriors team. He will improve the team's offensive firepower but he will also upgrade the perimeter defense. Iggy has always been a reliable fantasy option. With so many weapons around him, he will most probably not have the chance to dominate the ball.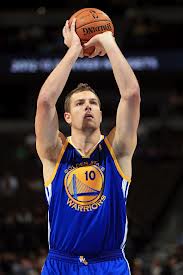 The starting power forward, David Lee, (image above) will again be a very good option for the fantasy owners. He is solid, reliable and consistent. His 17.5 points and 10.7 rebounds per game from last season may go slightly up or down, but as long as he stays healthy, there is no reason for him to not record similar performances.
Andrew Bogut is one big question mark for the Warriors this season. The team chose to risk and sign him for the next three seasons, despite his long injury history. He seems to be ok now, but can he stay that way? If he manages to play without issues this season, he can be a 10-12 PPG and 10 RPG type of player.
Harrison Barnes is the most significant reserve for the Warriors. He finished the previous season with 9.2 PPG, 4.1 RPG on a 43.9% shooting from the field. Marreese Speights is quality backup for the team. He and Barnes will most probably be the top two players coming off the bench for the Warriors. Last season, with the Cleveland Cavaliers, he averaged 10.2 PPG, 5.1 RPG and 45.7% shooting from the floor.