Strategies
Build your Dream Fantasy NFL Team
If you are trying to build the ultimate NFL fantasy team, what players do you absolutely have to have? Check out these suggestions.

Denver Bronco Peyton Manning is your ultimate quarterback selection. He has the team that he needs to make good things happen. In the first five games of this season, he already has 20 touchdown passes with only one interception. It leaves him on pace to throw twice as many TDs and half as many INTs as last year. His QB rating is up more than 30 points from last year.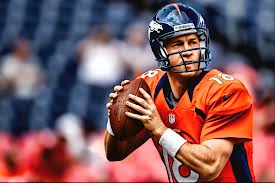 Adrian Peterson of the Minnesota Vikings is sizing up to be the top running back for a fantasy team. He's on pace to break 2,000 rushing yards for the second season in a row. He also has 5 TD's in just 4 games, putting him on pace to break 20 this year (nearly double his total from last season).
Your best choice for wide receiver is Dez Bryant. In just his 4th season in the NFL, he is set to break all of his previous statistic highs. In just 5 games, he has 6 catches for touchdowns. That's already half as many as he had all last season.
As a tight end, Jimmy Graham from New Orleans is paving the way. He has 6 TD catches in the first 5 games which is rare for a TE. He's poised for a career high number of catches and yards.
For special teams, head back to the Broncos and pick Matt Prater as your kicker. He hasn't missed this season in 9 attempts including a 53 yarder. 
Manning has been getting into the end zone too often for him to have more shots than that, but you can be sure that Prater will get you points every chance he gets. Those are a few of the top offensive players in the league. The Bears have basically been a wall on defense. They've historically been a defensive oriented team and can be a great selection for this season as well.