News
Chris Davis and his All Star Season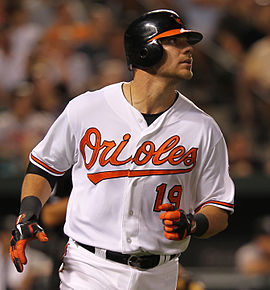 Chris Davis is very loudly putting up an All-Star and maybe even an MVP type season. In a mere 52 games so far this season he has blasted 19 homers including two last night that helped power the O's to victory. But what could be the key to his success is vastly cutting down his strikeouts and increasing his walks. Getting on base and making more contact gets you more pitches to hit and a better opportunity to continue pounding opposing pitching. Last season Davis walked a total of 37 times in 139 games. That is his career high for a season. This year he already has 29 walks showing much better plate discipline.
The power Davis has shown so far this season is not unheard of, he blasted 33 homers just last year and he averaged nearly 20 a season in his six years in the minors. He is posting the 3rd best average(.359), a league leading OBP (.447), SLG (.776), and OPS (1.214). His OPS so far this season is 219, now that is absurdly high. If he could maintain this kind of production all season than that would be good for first all time. Yes, first alltime passing the likes of Ruth, Williams, and Cobb.
Now I'm not saying this will happen or that pitchers won't figure out a different way to pitch to Davis or that he won't go into a slump. But his first two months of this season have been very impressive and he should be given all the recognition.
The Orioles are in 3rd place right now in the AL East and that is mainly due to their suspect pitching both in the rotation and the bullpen but if they can figure that out they stand a chance to make a play to return to the playoffs for the first time since the 1996-1997 seasons.