News
Close Call for Tom Brady on Tim Tebow's 26th Birthday!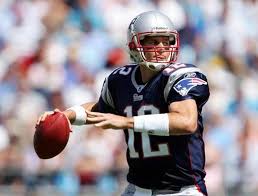 Tom Brady Leaves Patriots Practice With Apparent Knee Injury written by: carlmedia When Tim Tebow signed with the Patriots on June 11th, it was looked at as a luxury signing for fans as the hybrid QB would likely never see the field unless Tom Brady had New England healthily ahead of the opponent, and even then it's not sure if Bill Belichick would pull his starters regardless of a big cushion. New England fans got an unexpected scare and no doubt a foreshadowing of a season of 'Tebow Time' after Tom Brady left the field with an apparent knee injury after getting rolled into by a teammate.
The Play
Grainy, fan-shot video of the Brady injury quickly surfaced on Twitter. The Patriots were practicing against the Tampa Bay Buccaneers and the recording clearly shows Brady wearing his red QB jersey that is supposed to keep signal callers upright and to alert defenders that they're nearing the opposing quarterbacks. On the play he was injured, Brady took a quick three step drop and threw an out pass to the right sideline intended for Aaron Dobson. New England left tackle Nate Solder is pushed backwards by Tampa Bay defender Adrian Clayborn and Brady's definitive red jersey emerges from the pileup rolling around on the ground and writhing his left knee in pain.
Fans in the background of the amateur video can immediately be heard groaning, "Oh no!" and images were surely conjured up of Brady's season ending knee injury that happened only 8 minutes into the 2008 season. The knee that Brady hurt during the August 14th training camp hit was actually the same one that he tore up on that fall day in 2008 that catapulted backup QB Matt Cassell into a starting role and a heavy payday. After the hit by Clayborn, Brady was able to limp off the field but was immediately tended to by team doctors and trainers.
The Prognosis
The sigh of relief emanating from the Atlantic Northeast that was heard around 4:30 PM EST was fans hearing the reports that Brady's injury was simply a strain. X-Rays on the left knee were negative and team physicians have labeled the star QB day-to-day for practice. Even if Brady's knee isn't giving him problems for the duration of the preseason, fans can rest assured that Number 12 won't take the field until the September 8th opener in Buffalo. Even the savvy Bill Belichick knows just how much Brady means to New England's success in 2013 as they battle with injuries and jail sentences to their top 2012 tight ends and aim to replace their top wide receivers from a year ago as well.
Controversy on the Hit?
There are a select few NFL teams who practice with fellow NFL squads instead of making due with their expanded rosters and the Patriots were almost dreading their decision to do work with the Tampa Bay Buccaneers. It can be a nice reprieve to finally hit somebody in a different jersey but the increased intensity of the competitive practices can lead to incidences like that which happened in Patriots camp. Buccaneers DE Adrian Clayborn, who pushed the offensive tackle into Brady, was quoted after practice as saying that he knows enough to stay away from the QB but his instincts kicked in when he had LT Nate Solder on his heels. Clayborn's roster spot is likely secure but to a second or third string player fighting for a roster spot, hitting the 'off-switch' could be a career breaking decision. Either way, the Brady injury not being serious saves all fans from hearing sports talk reporters admonish the preseason and prevents the shredding of almost every fantasy football ranking sheet.
The Big Picture for the Patriots and the League
When word of an apparent Tom Brady injury first surfaced, betting odds for the Super Bowl, AFC, and AFC East were suspended which just goes to show how big of a cog in the machine the 36 year old Brady still is. There was also quite an uproar on social media amongst Boston sports fans which is also an indictment on the trust of 2nd string QB Ryan Mallett. Those who have also already drafted Brady in their fantasy leagues got an early season break when the QB was listed as day to day, saving August 14th from being dubbed their day of infamy…although it might've also been a sign from above as the Brady hit just happened to go down on a teammate's birthday – Tebow's 26th!