The Promos
DraftKings $4 Million Fantasy Baseball World Championship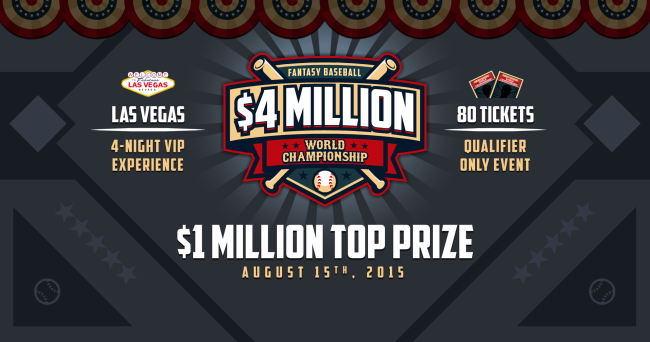 * Each package ($55,500 value) includes an FBWC Ticket PLUS a four-night (Aug. 12th-16th) VIP trip to Las Vegas and $1,000 cash for airfare!
* Enjoy accommodations at the luxurious Wynn Las Vegas, host of our ultimate live event viewing experience
* Experience what it means to be a DraftKings VIP at our exclusive pool party and exciting excursions including ATV desert racing!
1st Place wins $1,000,000
* Includes the nine MLB games that start between 7:05pm-7:15pm EST on August 15th 
* Qualify up to 5 times through August 5th
* Win your $55,500 Fantasy Baseball World Championship Package for as little as $0.25!