Strategies
DraftKings Fantasy MMA Lineup for Saturday February 28

Mixed Martial Arts (MMA) Daily Fantasy Sports Premiere At DraftKings
DraftKings Mixed Martial Arts (MMA) daily fantasy sports sure has been exciting, entertaining and enjoyable since its inception only a short time ago.  Last MMA event saw a barrage of underdog wins costing some sports books and probably a few MMA daily fantasy sports lineups a bit of trouble.  Will the underdogs do it again in this Saturday's DraftKings Mixed Martial Arts (MMA) daily fantasy sports contests?  This week girls are the headline of the show and the world has been waiting to see this Rousey vs. Zingano match for a long time.  There are also lots of great names and fights on the card and the fact that we get to follow the intense fight action while combining it with all the joy and excitement of daily fantasy sports just makes it that much better.  If you are similar to us and plan to create some daily fantasy sports MMA lineups this weekend it will be prudent to gather all the data and knowledge we can to try and make the best daily fantasy sports MMA lineups we possibly can. Lets get an overview of 1 potentially playable lineup for this weekends up coming event at the Staples Center, in Los Angeles California.
Event: Saturday February 28, 2015
UFC 184 Ronda Rousey vs. Cat Zingano | Staples Center | Los Angeles, California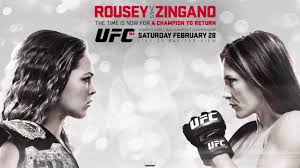 DraftKings Mixed Martial Arts (MMA) Daily Fantasy Sports Lineup Build
Fighter 1 – Derrick "The Black Beast" Lewis (11-3) (Heavyweight)
Winning 4 out of last 5 fights by either KO or TKO and coming off a loss to big time striker Matt Mitrione September Derrick "The Black Beast" Lewis (11-3) should be eager to comeback and show off his punching power .  A bit more experienced then his opponent Ruan "Fangzz" Potts (8-3) Lewis is the heavy favorite at -470 to win this fight.  While he is little pricey this contest has the best odds to end early so we are going to jump on this one as our first pick.
Fighter 2 – Tim "The Dirty Bird" Means (22-6) (Welterweight)
As one of the most evenly matched fights of the night according to the odds, Time "The Dirty Bird" Means (22-6) versus Dhiego Lima (10-2) should be a close battle with Means getting the edge.  Coming of wins in 4 of last 5 fights (2 by decision and 2 by TKO or KO) Tim should be ready to keep his two fight win streak going while pushing the action. We also get the more experienced fighter in the "The Dirty Bird" as favorite odds wise but at a slightly discounted price MMA daily fantasy sports wise which is an added bonus.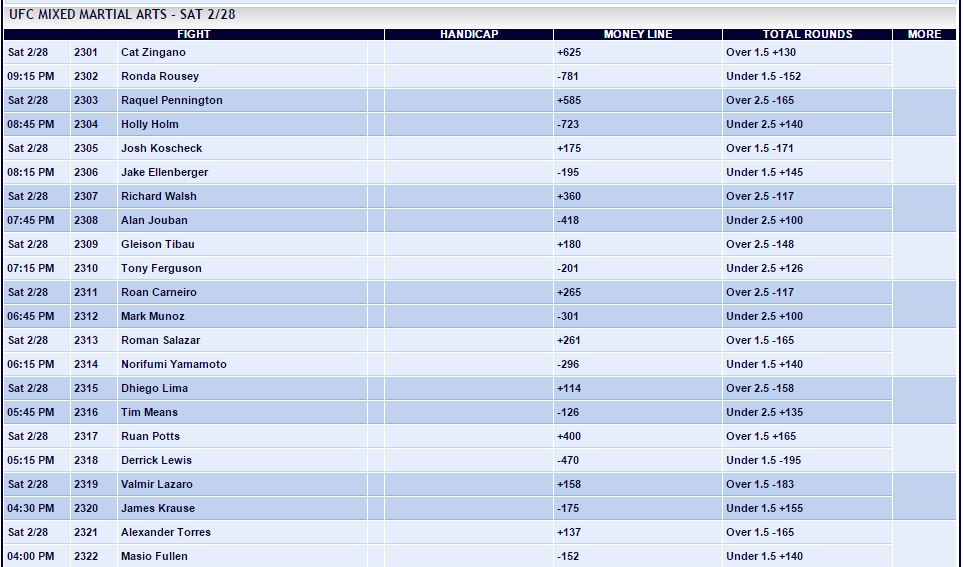 Fighter 3 – Tony "El Cucuy" Ferguson (17-3) (Lightweight)
Out next selection will be Tony "El Cucuy" Ferguson going up against Gleison Tibau (33-10).  Ferguson is -201 at the sports books and has won his last 4 fights in a row with only 1 out of the 3 going to decision.  Tony has an amazing submission game as well as knockout power so this a great chance to put in a truly multi talented fighter that can end fights in a number of different ways.
Fighter 4 – Josh "Kos" Koscheck (17-8) (Welterweight)
Both fighters are coming off 3 straight losses so it might just be a matter of who wants it more in this fight of Josh "Kos" Koscheck (17-8) and Jake "The Juggernaut" Ellenberger (29-9).  Ellenberger is the favorite but both these fighter are extremely experienced inside the octagon so anything can happen and we hope "Kos" can prove our pick right.  Both of these fighters like to stand and strike so there should be some nice opportunities pick up some MMA DFS points throughout the competition.  Koscheck is one of the cheaper options on the card  and so hopefully were picking up some value there as well.
Fighter 5 – Roman Salazar (9-3) (Bantamweight)
Norifumi "Kid" Yamamoto (18-6) has lost 4 of his last 5 fights and there is no reason this losing trend should not continue.  Roman Salazar (9-3) on the other hand has won 4 out of his last 5 fights so we have to feel good about this +261 underdog at such a nice price.  Roman is great with submissions so hopefully he can catch "Kid" off guard and put him away for the win.  Roman is coming off a loss as well so he should be hungry to get back to his winning ways.  Sometimes its the lightest guys that provide the most action so this should be a fun fight to watch.
We hope you enjoyed this Draft Kings Mixed Martial Arts (MMA) daily fantasy sports and wish everyone that does decide to compete this weekend the best of luck on building that next winning daily fantasy sports MMA lineup.  Who is your favorite fighter pick this week?  Do you think the UFC will reign supreme like they did during the last fight night?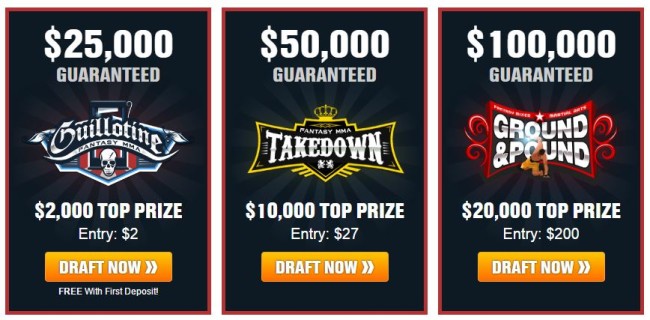 Draft Kings Mixed Martial Arts (MMA) Daily Fantasy Sports Scoring
Fighters from each contest will earn points as follows:
Moves Scoring
Significant Strikes (SS): +0.5 PTS
Advance (ADVC): +1 PT
Takedown (TD): +2 PTS
Reversal/Sweep (REV): +2 PTS
Knockdown (KD): +3 PTS
Fight Conclusion Bonuses
1st Round Win (1rW+): +100 PTS
2nd Round Win (2rW+): +70 PTS
3rd Round Win (3rW+): +50 PTS
4th Round Win (4rW+): +40 PTS
5th Round Win (5rW+): +40 PTS
Decision Win (WBD+) : +25 PTS
Scoring Notes:
Significant Strikes are any Distance Strike or Clinch/Ground Strikes that are considered "Power Strikes" by official scorers.
Advances include:
To Half Guard
To Side Control
To Mount
To Back Control