The Reviews
Draftkings Fantasy Sports Site Review

One of the most prominent companies in daily fantasy sports (DFS), DraftKings is making its presence felt throughout the entire industry. If the acquisitions by DraftKings of major daily fantasy sports websites Draftstreet (Acquired July 2014) and Starstreet (Acquired August 2014) are any indication of the growth to come then the company will be in a great position to become the premiere destination for daily fantasy sports players. Recently raising an additional $41 million in funding from investors, including new backer The Raine Group, as well as existing investors Redpoint Ventures, GGV Capital, and Cambridge-based Atlas Venture, DraftKings is setting itself up to become one of the biggest daily fantasy sports franchises in the world. Since its inception in 2012, the daily fantasy venture has raised about $75 million dollars, making it one of the most well funded companies in this competitive sports space. Headquartered in the Financial District of Boston, Massachusetts with a smaller office in New York City, DraftKings is poised to emerge as the perfect place for players to enjoy daily fantasy sports. Lets review what is making the DraftKings platform standout amongst its peers.
DraftKings Daily Fantasy Sports Account Sign Up Review:
After filling in only a few quick account details such as username, email, password, promo code, country and state/province you will be well on your way to entering your first daily fantasy sports contest on DraftKings. Offering both local and mobile playing options, DraftKings is supported on all popular computing devices making it easy to play regardless if you are at home or on the road. As daily free games and other types of daily fantasy sports freerolls are always offered on DraftKings therefore you can always jump right into playing for real money without ever depositing. DraftKings is a Paypal verified provider making deposits through the popular online payment processor easy. If you do not have a Paypal account all major credit cards are also accepted including VISA, Mastercard, American Express and Discover Card. The last deposit provider is DWOLLA, another web based money transmitter similar to Paypal. There is a $5 deposit minimum so only a small amount of money is required to get started. While most everyone over the age of 18 is welcome to participate in daily fantasy sports at DraftKings, it is of note that residents from Arizona, Iowa, Louisiana, Montana, Washington, and Quebec, Canada are currently not able play for real money on the site. Another minor legal detail of importance is that Alabama or Nebraska residents must be 19 years old to play rather then the common age of 18. Once your DraftKings account is loaded up you will be all set to enjoy all of the games the website has to offer.
DraftKings Daily Fantasy Sports Contest Type Review:
Creating one of the most robust sports lineups in all of daily fantasy sports with 8 options to choose from, DraftKings makes it possible to participate in Pro Football (NFL), Major League Baseball (MLB), Pro Basketball (NBA), Professional Hockey (NHL), Golf (PGA), Soccer (English Premier League (EPL) & UEFA Champions League (UCL)) and College Football and Basketball (CFB and CBB). All the sports integrate game types such as Guaranteed, Qualifiers, Head-to-head, Leagues, 50/50s, Multipliers, Steps and Beginners into there tournaments creating a plethora of choices for all kinds of player preferences. You can also create custom leagues set to your parameters and player invites making DraftKings one of the most flexible daily fantasy sports gaming software in the industry. With other innovative industry leading features such as late game lineup changes, in game highlight videos and and an extensive suite of lineup and player statistic tools the bonuses we will discuss below are not the only reasons daily fantasy sports players are lining up for their chance to get into the action at DraftKings.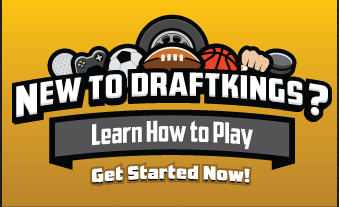 DraftKings Daily Fantasy Sports Promotions, Perks and Rewards Review:
One of the most active daily sports sites when it comes to promotions, DraftKings takes every opportunity to let their players share in their success. In addition to all the standard daily fantasy sports rewards bells and whistles such as signup and deposit bonuses, affiliate commissions, friend referral incentives and social media contests, DraftKings creates contests that take player promotions to a whole other level. Recently setting a record with a single day fantasy sports payout of 1 million dollars the company is constantly building events that not only promote the industry in a positive light but ones that assure the players are well taken care of as well. After the success of the first ever million dollar first place daily fantasy sports prize, DraftKings shows no signs of slowing down on the quest to create millionaires. Now offering contests such as the NFL 2.2 Million Dollar Millionaire Maker, The Fantasy Football Millionaire Series and The NFL 2.5 Million King of the Beach (at the Bahamas Atlantis Paradise Island) there is no telling what will be next on the agenda when it comes to generating the biggest prize pools in daily fantasy sports for players. After you also add in the frequent and generous guaranteed tournament overlays it is hard for anyone to argue that DraftKings is the preferred destination for both the recreational and professional daily fantasy sports enthusiast.
DraftKings Daily Fantasy Sports Privacy and Terms Review:
Backed by some of the most respected Venture Capitalists in finance, DraftKings has dedicated a significant amount of resources to assure its players safety, security and comfort. As a member of the Fantasy Trade Association (FTA) and a partner with STATS data service, DraftKings customers are afforded the types of third party checks and balances they deserve. On top of appropriate outside regulation the company also deploys 128 BIT Security for the website and honors a privacy policy and terms of use contract that holds the industry and players best interests in high regard. As one of the most renowned, respected and well funded daily fantasy sports sites, DraftKings clients can feel safe in knowing that their information and cash balances are safe. The company makes every effort to assure all appropriate physical, electronic, and managerial procedures are in place to safeguard and secure a fair and professional playing field for all. If questions do arise the DraftKings support team is knowledgeable and responsive and is available by email during support hours. With all of the bases covered it is hard to find one reason not to be playing daily fantasy sports at DraftKings.
DraftKings Final Daily Fantasy Sports Platform Rating = A+
Positively featured in such major news publications as the Wall Street Journal, Yahoo Finance, Bloomberg, The Boston Globe, Business Wire, Forbes, Tech Crunch and many more the buzz about DraftKings is clear. As sponsors of the World Series of Poker, the World Poker Tour, The Breeders Cup VIP Experience and other sporting events, DraftKings is now making its presence felt throughout many of our favorite sports pass times. According to a study by research firm IBISWorld, fantasy sports will be $1.4 billion industry in 2014, as companies like Yahoo, ESPN, and the CBS Corp. Enter the market. More then 30 million Americans will compete in a fantasy sport competition in 2014 according to the Fantasy Sports Trade Association making it one of the fastest growing markets with DraftKings at the forefront of the movement. From the prime time TV commercial spots to the new DraftKings television channel (DKTV), DraftKings is turning daily fantasy sports from a trend into a staple that will be here for years to enjoy. Are you ready to carve our your niche in daily fantasy sports history?