Strategies
FanDuel Fantasy MLB Lineup for Thursday April 16th
The MLB action is limited tonight but Archie Bradley looks to deliver for FanDuel
owners tonight. In a night limited to just four MLB games the options are limited on the mound and in your lineup. That being said you do have a few tough decisions to make including whether or not to use either Madison Bumgarner or Cole Hamels.
For us we compared the Bradley to the top few starters throwing tonight for their respective teams. In his first start of the season, Bradley allowed zero earned runs over six innings outpitching Clayton Kershaw in route to a 16 point fantasy performance. Bumgarner on the other hand has only one double digit fantasy performance in his three starts this season and cost $3,100 more than Bradley. Hamels pitched well against the Washington Nationals over the weekend posting double digits but we valued the $2,500 savings tonight with limited options.
Join FanDuel's $2 Squeeze Today!
As far as at the plate we elected to go with Giancarlo Stanton tonight against the New York Mets. While many are concerned over the fact he has yet to hit a home run with many putting the blame on last season's hit to the face. We are optimistic that the long ball will come for Stanton with tonight being a great night for his first.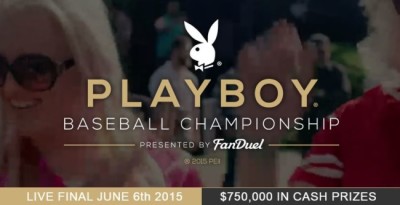 Here is our MLB FanDuel
Lineup for Thursday April 16th.
P – Archie Bradley ($7,400): The Arizona Diamondbacks starter has showed his ability to pitch at the major league level picking up his first win against the Los Angeles Dodgers. In that start Bradley allowed just one hit over six innings against one of the top lineups in the National League.
C – TuffyGosewisch ($2,200): We thought about going with one of the bigger named catchers but since we had Bradley on the mound that eliminates Buster Posey. That being said when we look at Gosewisch while he won't provide power he has picked up at least one hit following a game where he failed to pick up a hit.
Option: Travis D'Arnaud (Will need to make an additional move, Martin Prado for Evan Longoria)
First Base – Lucas Duda ($3,900):Duda is currently on a bit of a hot streak posting back to back eight point fantasy nights. We elected to go with the hot bat over the likes of Paul Goldschmidt who has a difficult matchup against Bumgarner.
Second Base – Dee Gordon ($4,200): The options at second base are thin tonight with Chase Utley being another option. Gordon is currently riding a four game hitting streak in that stretch he has posted eight hits with four runs batted in and three stolen bases.
Third Base – Evan Longoria ($3,700): We thought about possible Josh Donaldson but don't like his matchup against Chris Archer tonight for the Tampa Bay Rays. Longoria will face off against Aaron Sanchez who struggled in his first outing of the season against the Baltimore Orioles allowing seven hits, two home runs and three runs scored in just 3.1 innings.
Short Stop – AdeinyHechavarria ($2,400): The Miami Marlins short stop is another FanDuel bargain tonight for fantasy owners. Hechavarria is currently riding a three game multi hit game streak for the Marlins.
Outfield – Desmond Jennings ($3,300): Jennings won't provide your team with a ton of power but he does offer your team a base stealing threat. Over his past three games, Jennings has stolen three bases something that will increase if he can get on base a little more.
Outfield – Giancarlo Stanton ($5,000): We have our money riding on Stanton finding his long ball power tonight. Despite his struggles Stanton has the chance to post double digit fantasy performances almost any night of the week.
Outfield – Ben Revere ($2,800): Revere has struggled early but we still like his ability to post some fantasy numbers. The Philadelphia Phillies outfielder has some power as well as the ability to steal bases he just needs to get on base.
Option: Steve Souza (Swap out Stanton for Bryce Harper to free up cash)
FanDuel – Instant Fantasy Baseball