Strategies
FanDuel MLB Lineup for Friday April 17th
The weekend is here giving us a great opportunity to cash in on FanDuel
. Outside a couple day games today the Major League Baseball schedule is filled with a thirteen game lineup. This provides fantasy ownesr a great opportunity for fantasy owners to cash in with a long list of great fantasy plays.
Most of the top plays will look to come on the mound tonight as some of the games top starters take the ball. The top of that list is Clayton Kershaw for the Los Angeles Dodgers taking on the Colorado Rockies. Another great option on the mound tonight is Corey Kluber for the Cleveland Indians as they head to Minnesota to take on the Twins.
At the plate the list of talent is outfielder Mike Trout who has been red hot to start the season picking up at least one hit in each of his teams nine games. Over his last six games, Trout has picked up four multi-hit games including three in the Los Angeles Angels last game.
Another name to monitor is Giancarlo Stanton for the Miami Marlins. We stated yesterday to continue using the Marlins outfielder, as the home runs would come. That is exactly what happened as he not only picked up his first home run of the season but also added a double.
Join FanDuel's Playboy Championship
 Today!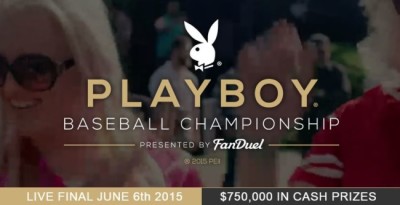 Here is our complete MLB FanDuel
lineup for Friday April 17th.
P – Corey Kluber ($10,700): We debated back and forth between Kluber and Kershaw. In the end we like Kluber's matchup against the Twins more than Kerhsaws matchup up against a good hitting Colorado Rockies team. The Twins are hitting just .221 with only five home runs and 27 runs scored in their first nine games.
Option: Jeff Locke (Fantasy Sleeper)
Catcher – Buster Posey ($4,200): The dccision to use the most expensive catcher in action tonight was simple. Look at his lifetime splits against Josh Collmenter are excellent. In his career, Posey picked up 11 hits in 20 at bats with three home runs and nine runs batted in.
Option: Caleb Joseph (Cheaper play, has seven hits in his last 11 at bats)
First Baseman – Mike Napoli ($3,100): The Red Sox first baseman has gotten off to a slow start this season. That being said he has four career hits in just 10 at bats against Ubaldo Jimenez including two home runs.
Second Baseman – Jonathan Schoop ($2,700): Schoop might be one of the hotter hitting second basemans in baseball. Over his last five games, Schoop has three home runs and seven runs batted in.
Third Baseman – Chris Johnson ($2,700): We looked at a few options tonight at the third base position landing us with Johnson. Another option is to go with the cheaper option at pitcher or catcher to upgrade.
Option: Todd Frazier
Short Stop – Everth Cabrera ($2,800): The Orioles head north to take on the Red Sox tonight at Fenway. We like this matchup on both sides but were limited on cash to use a player like Dustin Pedroia. This led us to Cabrera who has hits in three straight games as well as back-to-back games with walks.
Outfielder – Juan Lagares ($2,500): Since we spent most of our funds on one of the top pitcher as well as catcher it now limits us at the other positions. That being said, Lagares has four straight games with over at least 1.25 fantasy points.
Outfielder – Jon Jay ($2,500): Looking at matchups tonight Jay might be the best option among all the outfielders. That being said be cautious incase he isn't in the lineup. For his career career, Jay has 12 hits in 27 career at bats verse Johnny Cueto including three home runs.
Outfielder – Ryan Braun ($3,800): As we have been saying over the past few days with Giancarlo Stanton the home runs will come. That is the same case with Braun he is over due to this point.
Options: Ichiro Suzuki (3 career home runs against Bartolo Colon), Mike Trout (will have to use Locke and supplement Trout for Braun)
FanDuel – Instant Fantasy Baseball