Strategies
FanDuel MLB Lineup For Friday April 24
The weekend is here opening up a new door to cash in on FanDuel. If you followed our lineup yesterday we didn't do bad registering 35 points with two of our guys out of the lineup. Hopefully you were able to catch this as the day went on and was able to swap those players out.
Like we have of late we continued to ride a player whose track record was better than their performance up to this date. Yesterday it paid off as Manny Machado finished with 13.5 points with two home runs and four runs driven in for the Orioles.
Join FanDuel's $250K Fri MLB Grand Slam Today!
Along with Machado, Clay Buckholz finished strong finishing with 15 fantasy points after striking out ten Tampa Bay Rays. Like any other thing in life we have to move on from yesterday and take a look at which player is deserving of a spot in our lineup on Friday April 24th.
As we start to build our fantasy lineups tonight one player that stands out looking at his career splits against Andrew Cashner is Adrian Gonzalez. The Los Angeles Dodgers first baseman has nine career hits including four home runs in 25 career at bats. Along with Gonzalez, Chris Davis is another solid option tonight at first base with three career home runs off of Rick Porcello.
Like always we recommend monitoring the lineups as they are posted to ensure our picks are in the lineup. Here is our MLB FanDuel lineup for Friday April 24th.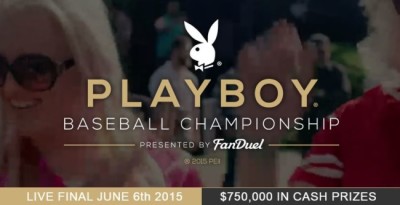 P – Scott Kazmir ($9,100): We landed with the Oakland A's starter taking on one of the bottom hitting teams in the American League. That being said it was simply based on the fact Felix Hernandez is still listed day to day after dealing with quad soreness on Saturday:
Option: Felix Hernandez (Will have to replace Stanton and Gonzalez with cheaper options), Josh Collmenter (FanDuel Fantasy Sleeper)
C – Brayan Pena ($2,300): Monitor Devin Mesoraco status as well as if Pena is in the lineup. Pena has eight career hits against Jon Lester in 20 career at bats giving us a great cheap option if he starts tonight.
Option: AJ Ellis
First Base – Adrian Gonzalez ($4,700): The Dodgers first baseman hit his sixth home run of the season on Thursday. Gonzalez has hit .360 over his 25 at bats including four home runs against Andrew Cashner.
Option: Chris Davis
Second Base – Daniel Murphy ($2,900): Murphy is coming off a big fantasy performance in his last game with two hits and four runs batted in. The Mets second baseman provides us a lefty bat in a very left-hander friendly Yankee Stadium.
Third Base – Mike Moustakas ($3,100): Looking at players who have solid track records landed us with Moustakas. In his career Moustakas has 10 career hits in 29 at bats with two home runs against Jose Quintana.
Option: Manny Machado
Short Stop – Jhonny Peralta ($2,800): The St. Louis Cardinals short stop might be the best option tonight at short stop based on the value. Peralta has two career home runs and four runs driven in off of R.A. Dickey.
Option: Troy Tulowitzki (Very expensive but great option at Coors Field)
Outfielder – Giancarlo Stanton ($4,900): After a slow start, Stanton has picked up four home runs over his last seven games. Tonight he gets a shot to add to that against Jordan Zimmerman someone he has three career home runs against.
Outfielder – Austin Jackson ($2,600): Looking for bargains after spending heavy on Stanton limits us with a few cheap options. The Mariners outfielder has ten hits over his last eight games.
Outfielder – Delmon Young ($2,600): Much like Jackson, Young is a great cheap option tonight against Rick Porcello. Young has eight career hits in 26 at bats off of the Red Sox starter.
Option: Matt Holliday, Adam Jones, Juan Lagares