Strategies
FanDuel MLB Lineup for Wednesday May 13
Tonight's another opportunity to cash on FanDuel
as the Major League Baseball action is filled with a 12 game lineup. Among the teams in action tonight include some of the games top power lineups. That includes the Toronto Blue Jays who saw Edwin Encarnacion touch off two home runs in the teams win on Tuesday.
As we have noticed as we look at the track records of teams cashing in on FanDuel
much of the success revolves around the starting pitcher. That is where we have been trying to spend a little more time at. Yesterday we cashed in with A.J. Burnett who posted a solid 15 point fantasy performance.
Tonight the obvious choice on the mound is Matt Harvey for the New York Mets as they take on the Chicago Cubs at Wrigley. Another option could also bee Cole Hamels for the Philadelphia Phillies who turned in a big 18 point fantasy performance in his last outing.
Join FanDuel's $125K Wed MLB Grand Slam Today!
You could also turn your attention to one of the sleeper options options tonight on the mound such as Raisel Iglesias who will take the mound for the Cincinnati Reds against the Atlanta Braves. Iglesias supports a salary of just $3,000 opening up a chance to build a big time lineup around some big time bats.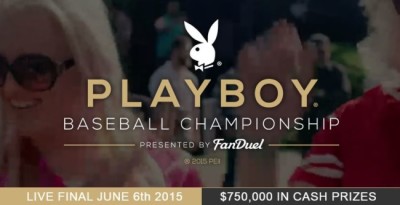 Here is our FanDuel
 MLB Lineup for Wednesday May 13th, 2015.
P – Cole Hamels ($9,400): We tossed around a few scenarios including starting Iglesias to free up a ton of cash to spread around the team. The end result was us taking Cole Hamels against a Pittsburgh Pirates team that has struggled at the plate for most of 2015.
C – Caleb Joseph ($2,600): Joseph has showed he has the ability to hit the ball out of the ballpark. That played in to our decision to spend a little cheaper at this position to spend on a big bat in the outfield.
First Base – Edwin Encarnacion ($4,000): The Blue Jays first baseman is coming off a two home run contest against Baltimore on Tuesday Night. Tonight he faces off against Miguel Gonzalez who he has three career home runs against.
Second Base – Robinson Cano ($3,400): While Cano has struggled to hit the ball out of the ballpark he has yielded six straight contests with at least 1.5 fantasy points. Tonight he faces off against James Shields who he has a .405 batting average against in 84 career at bats with four home runs and a total of 15 extra base hits on.
Third Base – Mike Moustakas ($2,700): Moustakas has played well of late picking up five hits in his last two games. In that stretch he has posted a 5.75 point performance as well as a 6.25 performance. Tonight the Royals take on the Texas Rangers in a hitters friendly ballpark.
Short Stop – Alcides Escobar ($2,600): The Royals second baseman has been hot of late picking up at least two hits in four of his last five ball games and six of his last eight. So far Escobar has four hits in seven at bats including a double, a triple, one run batted in and two runs scored in the first two games against the Texas Rangers.
Outfielder – Colby Rasmus ($2,900): We had a ton of options tonight but went with Rasmus past success against Tim Hudson. Rasmus is hitting .429 in 14 career at bats against Hudson with two home runs and four runs driven in.
Outfielder – Curtis Granderson ($2,900): Similar to Rasmus, we played Granderson based on his past success against Jason Hammel. Granderson has two home runs with three runs batted in during 17 at bats against the Cubs starter.
Outfielder – Joc Pederson ($4,300): You can go with Pederson or Gincarlo Stanton in this spot. We debated them both and have just enough extra cash to use either one. That being said Pederson has produced some big time fantasy numbers over his last ten including five games with at least four fantasy points. Overall, Pederson has four home runs, six runs batted in and nine runs scored in his last ten contests.