Strategies
Fanduel NBA Lineup for Thursday February 5th

Damian Lillard, LaMarcus Aldridge will look to power fantasy owners tonight on FanDuel! Despite being limited to only a four game NBA schedule tonight the action is still deep enough for fantasy owners to cash in. A few of the top fantasy options on the court tonight include Lillard, Aldridge as well as the likes of LeBron James, Kyrie Irving, DeMarcus Cousins, Chris Paul and John Wall.
As we started to examine all four of these games we took a look at how Vegas set the over/under on each of these games. The only contest to net under a combined score of 200 featured the Washington Wizards heading to Charlotte to take on the Hornets with an actual line of 186. This limits who we would take in this contest as they see this as a low scoring game costing us fantasy points.
The other three contests all sit at 207 points or higher including a night high of a 212 over/under. That contest featured the Phoenix Suns traveling to take on the Portland Trailblazers. The Dallas Mavericks take on the Sacramento Kings with a 208.5 over/under while the Los Angeles Clippers travel to Cleveland to take on the Cavaliers set at an over/under of 207.
This helped us turn our attention to the pair of Trailblazers teammates against the Suns. The Suns enter tonight's contest allowing over 44 fantasy points a game to opposing point guards over the last three weeks. Lillard has also played well of late posting back to back 40 point fantasy performances.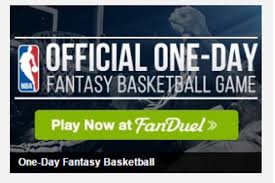 Here is our complete FanDuel Lineup for February 5th.
PG- Damian Lillard, ($8,800): The Trailblazers point guard has been brilliant of late posting back to back 40 point fantasy performances. Tonight Lillard should have an opportunity to make some big plays against a Suns team struggling to slow down opposing point guards.
PG – Jose Barea, ($3,900): Barea is one of the top bargains on the court tonight for the Mavericks filling in for the injured Rojon Rondo. Over his last two games Barea's minutes have increased so has his fantasy production to over 20 fantasy points a contest.
SG – Monta Ellis ($7,900): Ellis has all the potential to be a top fantasy producer at the shooting guard position but his inconsistency at producing big fantasy outputs on a night in and night out limits him. Nonetheless Ellis has put up at least 20 fantasy points in all but one contest over his last ten games.
SG – Jamal Crawford ($5,200): The talent at the shooting guard is limited tonight unless you want to splurge on the two most expensive players on the board. That being said Crawford should see an increase in minutes if JJ Redick continues to miss time.
SF – Al-Farouq Aminu ($4,300): The Mavericks small forward is another bargain tonight against the Kings. In his last five games, Aminu has posted four straight games with over 21 fantasy points including a high of 34.4 for fantasy owners.
SF – Chandler Parson ($6,100): Parsons has bounced back after missing two straight games posting games of 33.2 and 38.8 fantasy points. Tonight's contest against the Kings should be a high scoring contest for both clubs involved.
PF – LaMarcus Aldridge ($9,800): Fantasy owners had gotten a scare a few backs after Aldridge sustained an injury to his hand. Despite the recommendation for surgery Aldridge elected to put off the surgery and it has paid off. Since the injury Aldridge is averaging over 45 fantasy points a contest for his owners.
PF – Cody Zeller ($5,500): As we looked to avoid this matchup we couldn't pass up a solid fantasy play at $5,500 for the potential output Zeller could put up. While this play is more geared for GPP action you could look to a Kris Humphries if your concerned over Zellers recent 11 point fantasy performance against the same Wizards team.
C – DeAndre Jordan ($8,500): This was a difficult decision as we looked at both Jordan and Al Jefferson but ended up going with the Clipper center. Jordan has posted back to back 40 plus fantasy performances over his last two games.