Strategies
FanDuel NHL Lineup for Tuesday October 13th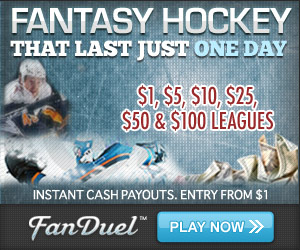 The 2015-16 NHL season is in full swing as fantasy owners look to capitalize during the first full week on FanDuel on Tuesday Night. In all some of the NHL's top fantasy players will be taking the ice including Alex Ovechkin, Sidney Crosby and Tyler Seguin.
Along with some of the premier fantasy scorers some of the NHL top fantasy goalies should be between the pipes as well. The list of goalies that stand out for Tuesday Night include Braden Holtby, Carey Price, Henrik Lundqvist and Pekka Rinne to name a few.
Now before we get to our NHL FanDuel Lineup for Tuesday October 13th, 2015 we wanted to take a look at any of the matchups that stand out in regards to potential solid fantasy matchups. One of those contests is the Vancouver Canucks verses the Los Angeles Kings. Entering this contest the Kings have allowed nine goals over their first two contests of the 2015-16 NHL season.
This opens up the possibility of using someone like left winger Daniel Sedin or right winger Jannik Hansen. Sedin has posted positive fantasy numbers in each of the teams two contests including a 12.8 point night to open the season. Meanwhile Hansen posted a goal in the first game and followed it up with an assist in the second game of the season.
A few other teams to consider building from include the Nashville Predators against the New Jersey Devils (allowed eight goals over first two games) as well as the St. Louis Blues versus the Calgary Flames (allowed seven goals over their first two games).
Here is our NHL FanDuel lineup for Tuesday October 13th, 2015.
LW – Alexander Ovechkin ($9,500): Ovechkin has the high price tag but his ability o find the net makes him a perfect play nearly every night of the week. The Capitals are also at home giving him something a little extra to play for in front of his own fans.
LW – J.T. Miller ($4,200): The New York Rangers left winger is another solid FanDuel Bargain for tonight. Miller has 11 fantasy points over his first three games coming off three straight games with at least one assists.
RW – Jannik Hansen ($4,000): The Canucks right winger is a great FanDuel Bargain at just $4,000. Hansen has posted back to back assists to start the season to open the 2015-16 NHL season.
RW – Vladimir Tarasenko ($8,200): Tarasenko has been hot to start the season posting 5.2 fantasy points in the teams first game and 7.3 fantasy points in the second game of the season. Overall Tarasenko has two goals, one assists and 10 shot on hands through two games to start the season.
C – Mike Ribeiro ($4,400): Looking for FanDuel Bargains led us to the Predators center. Ribeiro is coming off a solid fantasy performance in his last outing finishing with 3.5 fantasy points. Tonight is an ideal matchup against a Devils team that has allowed eight goals over their first two contests.
C – Tomas Plekanec ($6,000): Pleknanec is another great option tonight coming in red hot with three goals over his last two games. The Montreal Canadiens center has posted at least 4.4 fantasy points in all three of the teams contests to start the season while posting 11 total shots.
D – Anton Stralman ($4,300): The defenseman position is one of those positions we can find some solid Fantasy Bargains to help free up some extra salary. Stralman has three assists over the Tampa Bay Lightnings first two games leading to back to back games with at least 5.4 fantasy points.
D – John Carlson ($5,200): Carlson is another solid fantasy option tonight for the Washington Capitals. The Capitals are a team that is built around scoring which we saw in game 1 as they scored five goals against the New Jersey Devils. Carlson posted 7.2 fantasy points in his first game of the season.
G – Antti Niemi ($8,400): Looking at the contests tonight with teams that have struggled to score to start the season. That landed us with the Dallas Stars goalie against Edmonton who has scored only one goal over their first two games to start the season.
Join FanDuel's $40K Tue NHL Blue Line