Strategies
FanDuel NHL Lineup for Tuesday October 20th, 2015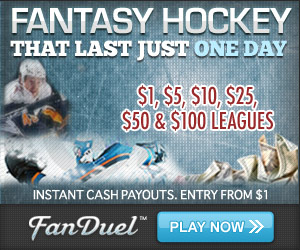 The 2015-16 NHL schedule for Tuesday has a promising seven game lineup for FanDuel owners to cash in on. The list of games includes the Dallas Stars traveling to the city of brotherly love to take on the Philadelphia Flyers. This contests features the teams highest scoring team the Stars who have scored 19 goals over their first five games versus a Flyers team that will have Michael Neuvirth between the pipes.
Neuvirth opened the season allowing three goals to the Florida Panthers but since that game the Flyers goalie has pitched back to back shut outs including one last Wednesday against the Chicago Blackhawks. Another contest to pay attention to for Daily Fantasy Owners is the Washington Capitals contest verse the Calgary Flames.
This matchup features a Capitals team averaging over three goals a game against a Flames team that has allowed 19 goals over their first five contests. This opens up a nice lineup of fantasy options including Alexander Ovechkin who has three goals over his first three games while finishing each contest with at least 5.6 fantasy points for his FanDuel owners.
The third NHL contest from Tuesday to pay attention to is the New York Islanders contest against the Columbus Blue Jackets. Entering this contest the Blue Jackets have allowed a league high 30 goals over their first six contests. That includes some 23 from Sergei Bobrovsky who had been a solid goal keeper over the past few seasons.
Here is our NHL FanDuel lineup for Tuesday October 20th, 2015.
LW – Alexander Ovechkin ($9,600): We are hoping this time around the great eight lands on the ice as he was benched the night we used him last. That being said it is hard to pass up on the best goal scorer in the NHL on any night of the week.
LW – Max Domi ($4,600): After going expensive with Ovechkin we needed to go a little cheaper with our second left winger option. That being said Domi has three goals, three assists and 16 shots on goal over his first five games this season.
Other FanDuel left wing options include
RW – Anthony Duclair ($4,300): We bounced around when building our NHL FanDuel lineup for tonight leaving Duclair as our last player picked leaving some salary cap space on the floor. That means if you would like to spend more freely at the defenseman position feel free. Duclair has four goals and two assists on the season.
RW – Alex Hemsky ($4,300): Looking for FanDuel Bargains landed us with the Stars right winger. Over his first five games this season, Hemsky has one goal and five assists while posting at least 3.7 fantasy pints in four of those games.
Other FanDuel right wing options include T.J. Oshie, Kyle Okposo and James Neal.
C – John Tavares ($9,100): Tavares might be the top FanDuel Fantasy option for tonight going up against a struggling Blue Jackets team. Tavares has registered at least 3.9 fantasy points in all five Islanders games this season while scoring three goals and dishing out five assists.
C – Aleksander Barkov ($5,200): The Florida Panthers center is a difficult pick but a play that could be used in a low percentage of contests. Barkov has posted three consecutive games with a goal but will be going up against a Pittsburgh Penguins team that has allowed just nine goals over their first five games.
Other FanDuel center options include Nicklas Backstrom, Martin Hanzal and Sidney Crosby.
D – Marek Zidlicky ($3,800): As we started to look to build our FanDuel lineup for tonight the first contest we looked to was the Islanders/Blue Jackets matchup. That being said we like Johnny Boychuk as well but Zidlicky is a nice FanDuel bargain that has the potential to find the net. Since we left some cash on the books feel free to upgrade someone like Boychuk or John Carlson at this slot.
D – Jason Demers ($3,300): We elected to go with two cheap options at the defenseman position. That includes the Stars Jason Demers who has posted at least 1.8 fantasy points in three of his first five games this season.
Other FanDuel Defenseman options include John Carlson, Johnny Boychuk and Oliver Ekman-Larsson.
G – Mike Smith ($8,800): Smith has struggled over the past two games but we expect him to be between the pipes tonight against the New Jersey Devils. Entering this contest the Devils have had a difficult time finding the net scoring just six goals over their first four games to open the season.
Other FanDuel Goalie options include Antti Niemi and Braden Holtby.
Join FanDuel's $40K Tue NHL Blue Line