The Promos
Fanduel's $60K NBA Salary Cap

The Rotoguys want to be part of your fantasy basketball success story! We do everything we can to keep you informed, educated and most importantly – motivated. We have taken the time to pick a roster for Fanduel's $60K NBA Salary Cap. Feel free to use it and hopefully cash in.
Our selections for the point guard positions are Michael Carter-Williams and Damian Lillard. MCW is projected to be dominant, now that Evan Turner and Spencer Hawes will not be around. Lillard is also expected to put up big numbers, as he usually does.
Victor Oladipo is selected as the shooting guard spot because he has been delivering with consistency this season. With Glen Davis gone, Oladipo might see a boost in his production. James Harden needs no explanation for his selection. He is arguably the most productive shooting guard.
Mike Dunleavy and Shawn Marion are selected at the small forward spot and they are expected to play big on Wednesday. Dunleavy has emerged as a solid contributor for the Chicago Bulls and Marion is also playing well.
Dirk Nowitzki and Carlos Boozer are our selections at the power forward spot. Both of them have been doing their work as of lately.
Miles Plumlee is our pick for the center spot and although he contains a dose of risk, he could be a great reward if he plays as well as we expect.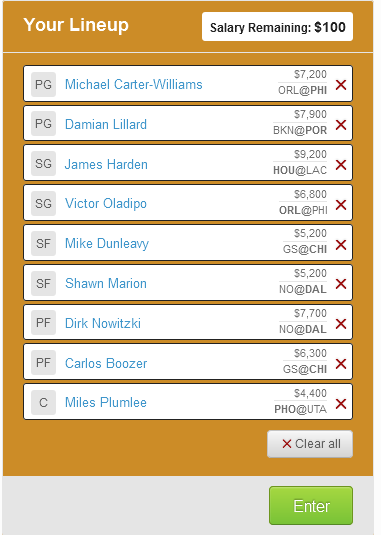 Also, remember that the same roster can be used for Fanduel's $120K Wed NBA Super Slam. Click HERE for more details. Maximize your fun!