The Reviews
Fantasy Aces Daily Fantasy Sports Site Review

Actively building a dominate presence in the daily fantasy sports space, Fantasy Aces Inc of Southern California is one company that is on many daily fantasy sports players radars.  Offering a diverse set of games, an avid player base and unique rewards systems, bonuses and promotions more and more people are starting to take notice of this thriving daily fantasy sports platform.  With a well established reputation, dynamic software, first class customer service, premiere playing experience and PGA, NASCAR and MMA games in development there is no telling how far Fantasy Aces can go.  Lets review why both novice and experienced daily fantasy sports participants are choosing Fantasy Aces as part of their playing routine.
Fantasy Aces Daily Fantasy Sports Sign Up and Deposit Review:
Signing up to the Fantasy Aces daily fantasy sports website is straight forward and easy.  Only taking a few minutes of time and requiring very little personal information, a daily fantasy sports account can be created quickly and with minimal effort.  Fantasy Aces also offers a profile section to fill out once you are signed up which is a fun place to add a few details about your sports favorites.  While there are usually free or practice games available, depositing and entering your first contest is a similarly short and easy process as signing up to Fantasy Aces was.  Accepting Paypal as well as all major credit cards such as Visa, Mastercard and Discover Card there are a number of choices when it comes to depositing  money on the website, all of which are fast, safe and secure.  On a final note it is always wise to remember that daily fantasy sports are not offered in jurisdictions such as Arizona, Iowa, Louisiana, Montana, Vermont, Puerto Rico and Quebec.
Fantasy Aces Daily Fantasy Sports Game Type Review:
Currently offering Pro Football (NFL), Major League Baseball (MLB), Pro Basketball (NBA), Pro Hocky (NHL) and College Football (CFB), the major sports are all supported, giving every type of sports fan an opportunity to play during their favorite season.  In addition to providing games for all the major sports, Fantasy Aces also provides a wide selection of game options to pick through.  From game formats such as Classic and SalaryPro to payout structures like winner take all, double up 50/50's, multi player tournaments, qualifiers, survivors and heads up 1 on 1 competitions there truly is something for every type of daily fantasy sports preference.
Fantasy Aces Daily Fantasy Sports Bonus, Promotions, Rewards Review:
Specializing in keeping players happy and generating value for customers, Fantasy Aces consistently focuses on not only building an elite daily fantasy sports experience but giving back to there new clients and loyal players.  Fantasy Aces almost always offers a first time player deposit bonus and when combined with the frequent match bonus deposits there is lots of great perks available for those looking to play.  On top of the deposit bonuses there is a "Monthly Wins Bonus" program that rewards loyal and frequent winning players.  Comparable to rakeback in poker, the Fantasy Aces daily fantasy sports wins programs gives back a fixed payout per win over a defined schedule of tiers, wins and rules.  Also including daily fantasy sports leaderboards, chatrooms and lots of championship events there is sure to be something to please everyone at Fantasy Aces.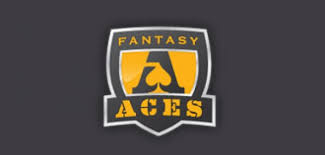 Fantasy Aces Daily Fantasy Sports Security Review:
Since Fatansy Aces is a member of the Fantasy Sports Trade Association and a partner with 3rd party data provider SportsData there is very little to worry about for daily fantasy sports players in regards to game integrity and function.  Also boasting a fully secure website with trusted payment processing daily fantasy players can find comfort in both the safety of funds and account balances as well as personal information.  Even if there is an issue or concern with the service or website, support is available 24 hours a day through the contact form and sometimes offers help and answers within fifteen minutes and usually no later then 24 hours.  It is easy to feel safe knowing that Fantasy Aces is doing everything in there power to protect their players while providing the ultimate daily fantasy sports gaming experience.
If you are looking for a new daily fantasy sports site to join it would be wise to consider moving Fantasy Aces to the top of your list.  With an extensive and feature rich playing platform Fantasy Aces easily stands out among the many daily fantasy sports options.  From unique one of a kind options like the site exclusive "Scout" tool, to the well designed and intuitive software, Fantasy Aces makes daily fantasy sports enjoyable for the both the beginner and professional player.  What are you waiting for?  Find a new daily fantasy sports website playing option today at Fantasy Aces!