Strategies
Fantasy MLB Players in the Spotlight
Josh Donaldson and Brandon Moss team up to headline the list of hot fantasy players around the game of baseball. Donaldson's and Moss's hot bats have not only helped the Oakland A's to the best record in baseball, but has also helped their fantasy owners win ball games this season.
Donaldson currently sits tied for seventh in home runs with 10 and fifth in runs batted in with 35 in the American League. Over his last five games Donaldson is riding a five game hitting streak with eight hits in 17 at bats including one triple and three home runs. He has also scored nine runs, drove in 10 runs and walked four times. In the team's next three games Donaldson will face Jake Odorizzi, Erik Bedard, and Chris Archer with only seven career at bats against Bedard with one hit.

Brandon Moss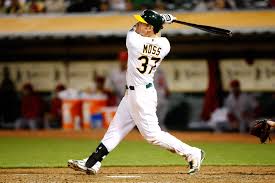 Moss has been on fire as well for the A's has picked up 10 hits in his last 22 at bats, including five doubles, one triple and three home runs. Moss has also added eight runs, drove in 11 runs and walked five times over that stretch. Moss currently sits tied for ninth with nine home runs, second with 39 runs batted in and twelth with a.302 average in the American League. Like Donaldson, Moss's only at bats have come against Bedard, but has three hits in five career at bats including a walk.
Here is a list of some other hot hitters for fantasy lineups:
Brett Gardner, New York Yankees: Four hits in his last 10 at bats including one double, one triple, one home run and three walks. Gardner will face Jason Hammel (1 for 10), Jeff Samardzija (0 for 1) and Hector Noesi (0 for 2) over the teams next three games.
Adam Jones, Baltimore Orioles: 11 hits in his last 30 at bat including two home runs and runs driven in. Jones will face off against Francisco Liriano (4 for 15 with 3 home runs), Wandy Rodriguez (0 at bats) and Josh Tomlin (7 for 14 with four doubles and a home run).
Victor Martinez, Detroit Tigers: Nine hits in his last 25 at bats  including two doubles, two home runs and three runs driven in. Martinez will face off against Corey Kluber (6 for 12), Trevor Bauer (0 career at bats) and Zach McAllister (6 for 12 with 5 runs batted in).
Chris Carter, Houston Astros: Eight for his last 23 with three doubles, one home run and two runs batted in. Carter will face off against Garrett Richards (5 for 11 with one home run), Tyler Skaggs (0 for 3) and Jered Weaver (0 for 4).