Strategies
Fantasy MLB's Speedster: Billy Hamilton
Cincinnati Reds speedster Billy Hamilton scored on a 'sacrifice fly' on Wednesday against the St. Louis Cardinals that only cleared the infield by no more than 25 feet.
Hamilton is a blazer.  Scouts have said about Hamilton that "he is so fast; he can outrun a shortwave radio."  It is clear that if anyone can outrun a shortwave radio, it is Hamilton.  He can fly.
Speed is the most useful tool in the major leagues because it helps on offense and defense.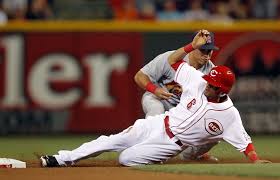 On offense, speed like Hamilton's puts pressure on the defense.  The infield has to play shallower since they have less time to make the throw to first on a ground ball to retire him.  This allows more ground balls to get through the infield as the fielders have less reaction time.  Hamilton is nearly impossible to double up on a grounder so there will be times that he will drive in runs and extend innings with productive outs.  His speed will prove to be a distraction for every pitcher when he is on base. This will shift the focus off of the hitter causing more mistake pitches to be thrown.  Plus, where Hamilton does not have great power, many of his singles will be turned into doubles with a stolen base. He should score more runs than a similar hitting player with far less speed.  Outfielders will at times rush throws on fly balls and hits leading to more errors on the defense.
Defensively Hamilton's speed will allow him to cover more ground and get to more balls in the outfield.  His speed will allow him to compensate for mistakes on reading the ball off the bat and getting a bad jump.
This young man has a chance to be a dynamic player.  He has a chance to be one of the most exciting players in the game.  But as they say, "You can't steal first base."  If is to truly impact the game as his tools would allow he is going to have to hit and walk his way to at least a .330 on base percentage.  If he can do that, then look out!