Strategies
Fantasy Tips and Picks: NBA 2013-2014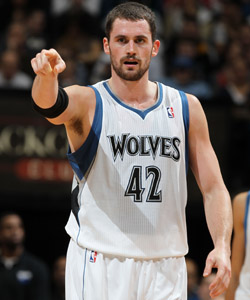 It's been almost 10 days into the 2013 summer offseason and the balances in the NBA teams have drastically changed. We've experienced some major talent movement, with some teams getting stronger, while others missing much of their star power. Of course we can expect several more movements during the free agency, as teams in the NBA will explore options to secure a better course next season. As we'll have to eagerly wait for the start of the 2013-2014 season, the same thing applies for the fantasy season. Let's examine who are the top picks for fantasy teams. We won't refer to the obvious top selections, like LeBron James or Kevin Durant.
At first, we'll should mention Kevin Love as a solid fantasy pick. The double-double machine was limited to just 18 games last season due to an injury. Next season though, he is expected to make a strong comeback. During the season prior to his injury, in 2011-2012, he averaged 26 PPG, 13.3 RPG, 0.9 BPG, while shooting 44.8 percent from the field and 37.2 percent from three-point range. He is expected to return to such standards next season.
Eric Bledsoe should also be a player under the scope. After the trade that brought him to the Phoenix Suns, the 23-year old guard is expected to be the centerpiece of the Suns team. He will finally get the chance to be a started and this will be the unique opportunity for him to prove if he can reach an All-Star level. His 8.5 PPG, 1.4 SPG, 3.0 RPG and 0.7 BPG were all career-highs, though they didn't make jaws drop. This season, his numbers are projected to boom and we could easily see him average about 15.0 PPG. His minutes will definitely go up, too.
Danny Granger played only five games last season. However, he shouldn't be neglected. Returning back from his injury next year and with an Indiana Pacers team that has emerged as one of the best teams in the East, Granger can easily repeat the 18.7 PPG, 5RPG season he had in 2011-2012. Whilst he'll have to find a formula of cooperation with rising stars Roy Hibbert and Paul George, there no doubt Granger will be a solid option for next season.
Stephen Curry is the next one on the list. In a season that should have earned him an All-Star spot, curry averaged 22.9 PPG, 6.9 APG and 4.0 RPG while shooting 45.1 percent from the field and an astonishing 45.3 percent from long range. Now, considering he is just 25 years, there's no doubt he'll be emerge as a superstar, if he hasn't already. The presence of Andre Iguodala, who recently signed with the Golden State Warriors could work both for his good and not. Though Iggy will surely take a portion of the offensive load off of Curry, his deep penetrations in towards the hoop will also create wide open shots for him, not that he needs much space to bang a three.