The Reviews
FantasyHub Daily Fantasy Sports (DFS) Review

All In Fantasy Overall Rating = A+
One of the only daily sports websites in the industry putting charity at the forefront of focus FantasyHub is an incredible of what is possible within the DFS communities.  Known as the first daily fantasy sports site to use DFS sporting events and competitions as fundraisers for organizations like charities, fraternities, high school sports teams, and other types of programs in need.  Capitalizing on star personalities of partner athletes and offering prizes, tournaments and payout contributions contributions no other daily fantasy sports site can offer FantasyHub is truly a unique experience.  Accepted to participate in the Techstars seed-stage investment program in Austin, Texas it is the clear the FantasyHub DFS product that combines fantasy sports leagues and charitable giving is making great strides as a company.  As FantasyHub LLC. Continues to raise thousands of dollars for charities and as new players keep signing up for FantasyHub accounts in bunches due to its one of a kind nature there is no telling how far this DFS website cant take both the good in daily fantasy sports and more importantly in the fields of charitable support and awareness.  Lets take an inside look into all the FantasyHub has to offer as a daily fantasy sports platform to see if it might be an appropriate fit for our future DFS plans.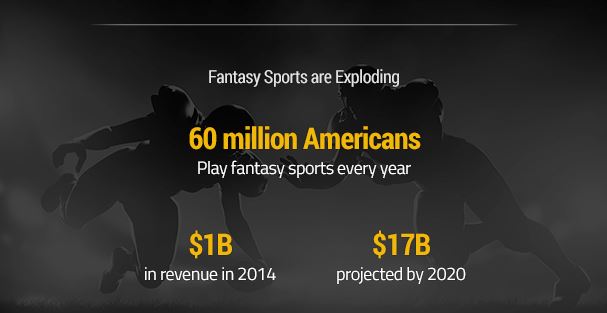 Founded: 2013
Founders, Backers and Team Members:  Andrew Busa – Founder & CEO, Steven Plappert – Founder & CFO, Chris Pierce – Founder, VP of Sales & Client Relations, Steven Hornung – Lead Developer, Chris Lott – Developer, Steven Ambs – Front End Developer, Techstars, Private Seed Funding
Location / Headquarters: Austin, Texas (Founded In Louisville, Kentucky)
FantasyHub Daily Fantasy Sports (DFS) Sign Up Bonus: Click HERE for most current bonus.
FantasyHub Daily Fantasy Sports (DFS) Sign Up Time and Information: 1 minute sign up form. Info needed is First Name, Last Name, Username, Email, Password, Referral Code
FantasyHub Daily Fantasy Sports (DFS) Sport Types: National Football League (NFL), Major League Baseball (MLB), National Basketball Association (NBA), NCAA Basketball (College), Professional Golf Association (PGA).
FantasyHub Daily Fantasy Sports (DFS) Game Types: Featured, Athlete Leagues, Big Tournaments, Classic Contests, Head 2 Head, Daily Doubles, Freeroll Contests
FantasyHub Daily Fantasy Sports (DFS) Game Buy In Limits: Free – $1000
FantasyHub Daily Fantasy Sports (DFS) Platform Types: Personal Computer, Tablets and Phones (Android, Apple)
FantasyHub Daily Fantasy Sports (DFS) Deposit Types:  VISA, Mastercard, American Express,  Discover Card
FantasyHub Daily Fantasy Sports (DFS) Deposit Minimum: $10
FantasyHub Daily Fantasy Sports (DFS) Withdrawal Cashout Time: 2 – 3 days
FantasyHub Daily Fantasy Sports (DFS) Partners, Providers, Features, Celebrities, Sports Personalities: Techstars, Fantasy Sports Trade Association, Bloomberg, Forbes, Wall Street Journal, Los Angeles Times, Udonis Haslem, Mario Chalmers, Albert Pujols, Bo Jackson, James Worthy, Lolo Jones, David Nelson, Kurt Warner, Mike Muscala, Noah Vonleh, Hassan Whiteside, Andre  Drummond, Donovan McNabb, Isaiah Thomas, Santonio Holmes, Colton Underwood, Ralph Sampson, Nancy Lieberman, Jerome Williams, Micheal Carter Williams, Michael Kidd-Gilchrist, Julius Randle, Trey Burke, Terrence Ross, Patrick Peterson, Matt Light
FantasyHub Daily Fantasy Sports (DFS) Social: Facebook, Twitter, Pinterest, Youtube, Instagram, Blog
FantasyHub Daily Fantasy Sports (DFS) Security and Support: 128 BIT Website Security.  Live chat support.
FantasyHub Daily Fantasy Sports (DFS) Player Exclusions: Excludes residents from the states of Arizona, Iowa, Louisiana, Montana, Washington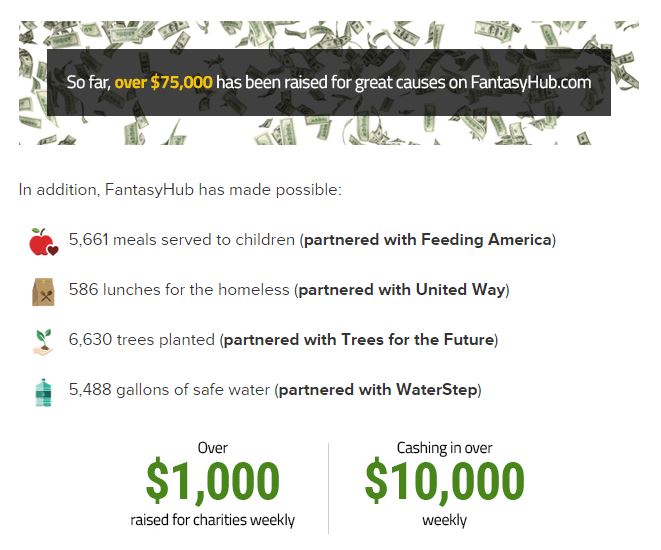 FantasyHub Daily Fantasy Sports (DFS) Current Promotions:
–FantasyHub Daily and Weekly Freerolls
–Donations To Charity Through Gameplay
–FantasyHub Invite Friends Affiliate Earnings
–Pro Athlete and Sports Celebrity Leagues and Prizes
With a worthy and noble approach to daily fantasy sports it seems FantasyHub is headed in the right direction with both players and fans.  Centering the FantasyHub product around philanthropy there is no question that this DFS product wants to distinguish themselves from the crowd.  Want tickets to watch your favorite team that include a meet and greet with pro Athletes? What about a personal phone call with NFL MVP Kurt Warner?  These are the kind of once in a lifetime experiences offered at FantasyHub due to their strong connection with players that want to give back to both the fans and the community.  Ready to start adding to your daily fantasy sports karma points and bankroll?  Sign up for an account at FantasyHub and start feeling even better about your passion for daily fantasy sports as you get to play a game you love while giving back to society.  FantasyHub is a true daily fantasy sports win / win for everyone who plays.
Why FantasyHub?
-Play Daily Fantasy Sports For Real Cash, Charity or In No Cost Freerolls!
-Multiple Choices of Lineup Building and Contest Entry Selections!
-Play Head 2 Head, Big Tournaments or Challenge Friends!
-Instant, Safe, Secure, Account Deposit and Withdraw Requests!
-100% legal U.S. Daily Fantasy Sports Entertainment!