The Reviews
FanThrowDown Review

FanThrowDown, established in 2011, offers daily fantasy games for all enthusiasts from
NFL to Nascar & Golf.  Sign up is free and you can choose to deposit funds or invite
friends and family to make use of the platform.  The choices are head to head match 
ups and leagues in a variety of sports.  They have very impressive payouts in terms of 
timing: 1 to 2 days and bill themselves as 'the fastest payout in the biz'.  As we will explain,
its simplicity, glossy slick home page and compatibility make it a RotoGuy favorite.  
THE USER EXPERIENCE
One of the things that you will notice about the interface of
FanThrowDown.com is how slick it is. If you have tried DraftDay or FanDuel before then it will definitely remind you of those two sites. The slickness of the site translates into easy navigation. Even fantasy sports newbies will not get confused with this site. Some fantasy sports players like to stay in front of the computer for hours on end. You can easily do this with FanThrowDown without getting an eye strain or even being overwhelmed.
All the available options are easy to find. One area of improvement when it comes to the interface is the multi-player set up. Having more interactions among opposing players would have been better. In the final analysis though, it is just a minor issue and as we predict evolving.
Developers have done a great job with layout breaking down live games in the lobby for a
quick afternoon MLB pick and all the information you need: Buy in Value, Entries (great
feature not seen often enough), Prize Pool and start time.  I find it aggravating scoping DFS
sites to figure out what game fits my interest and goals.  Extremely simple with
FanThrowdown.  You can further perfect the model by filtering results and saving the custom
filter.You will see 8 options in the main toolbar of FanThrowDown.com. The first option is
"Matches" where players can view all of their past, current and future games. The next
option is "My Account" where users can fiddle with the settings of their accounts. Here they can add an avatar and add and edit their personal information. The next two options, "How it Works" and "Rules and Scoring," presents the rules and regulations of the site. There is also a "Leaderboard" option where users can view the standing. The last two options, "Support" and "Forums" are a great help for people who have questions regarding the website.

THE GAMES
When it comes to game offerings, you will never run out of choices with FanThrowDown.
This is because the site offers plenty of games on a daily basis. You can choose from
Target Games, Pick Em and Over/Under games. If you will go to the site's game lobby, you
will see a plethora of filters for games including type of sport, game type, entrants, buy-in,
start time, game duration and payout structure.  More importantly for me they offer it all:
NFL, MLB, NBA, NHL, College Basketball and Football (NCAA) as well as Nascar and
Golf…what better variety than getting to pick Flacco on one team and Rickie Fowler for
another match up.If you have friends who are also into fantasy sports, then you will be
delighted to know that the site allows players to create their own private or public league.
For a minimum of 20 players, you can create your own league at any buy-in level. You can
name your league and decide on the game style and the payout structure.The number of
game options is nice if you are a veteran fantasy sports player but for new players, it can be
a bit overwhelming. While this feature of the site has the potential to turn off newbies and
casual players we believe its fine 'Go Big or Go Home' we say. If you have the patience and
the willingness to learn (and make a few mistakes along the way) then this site is a
paradise. One of the features that set FanThrowDown.com from other fantasy sports
websites is its fast payouts which is probably the fastest in the business. In fact, payouts
are often processed on the same day. Users can choose from a variety of deposit options.
If you feel more comfortable receiving payouts to your PayPal account, then you can
choose that option. If you want, you can also get your payouts via check which are mailed
within 48 hours. You can already start playing at FanThrowDown.com for a minimum
deposit of $10 either through PayPal or any major credit card.
Bonus Cash:
Earn bonus cash simply by entering any Friday Night Fight contest. Each contest has a bonus cash reward for participation. The amount of  each bonus cash reward is specific for each Friday Night Fight contest. This is a one-time award given for each entrant in each contest, a maximum potential of 5 rewards for a grand total of $110 in bonus cash for any one member.
RotoGuys Exclusive:
Sign up to FanThrowDown and use Promo Code "ROTOGUYS" to get a 100% Bonus your
Deposit!  That's a Throwdown.
Click on our RotoGirl Emma Now to Sign up!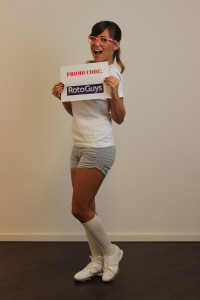 THE BOTTOM LINE:
After a thorough
FanThrowDown.com
review, the RotoGuys conclusion is that this is one of the best fantasy sports sites out there. The number of game options may scare off newbies but that is a minor problem compared to the number of good points that this site has.  Fantasy Sports is serious business and FanThrowDown is the perfect 'player'.
SUPPORT
: FanThrowdown Support 24/7: (518) 450-1459 Contact them here:
https://fanthrowdown.com/support