Strategies
Friday's Big Fantasy Winner: A Rotoguys Analysis
An Inside View Into Winning Daily Fantasy Sports Draft Kings Lineups
With the Draft Street to Draft Kings merger well under way and Draft Kings TV (DKTV) now broadcasting there is no telling how large the games will grow. As $100,000 daily fantasy sports contests now spring up weekly and tournaments sizes and prize pools expand at Draft Kings it is becoming clear they are raising the hobby to an elite level. We are now seeing 10,000 plus team daily fantasy baseball tournaments and there is no end in sight as to where draft kings will set the bar.
Now offering a $6,000,000 Fantasy Baseball Legend Series, a MLB $1,000,000 Championship Week Finale and a $3,300,000 Fantasy Baseball Championship there is no denying Draft Kings is setting new daily fanatasy sports milestones, prcendents and records with regularity. As one of the premiere daily fantasy sports platforms the Draft Kings daily $2 fantasy baseball tournament is starting to reach new heights by most industry standards and measures. Now showcasing an over 10,000 person playing field on some nights and 5 figure paydays, the Draft Kings MLB Moon Shot (18k) is an exciting example of the possible potential for daily fantasy sports. Finding himself in the winners circle this week for the Draft Kings $2 MLB Moon Shot (18k) daily fantasy sports contest on Friday July 25h 2014 was Draft Kings player "Benspringfield". Ball caps off to "Benspringfield" for building the winning daily fantasy sports lineup and scoring a tournament high of 184.8 daily fantasy points. Lets go over the lineup to see what may have lead to its rise to the top of the leader board this week on Draft Kings.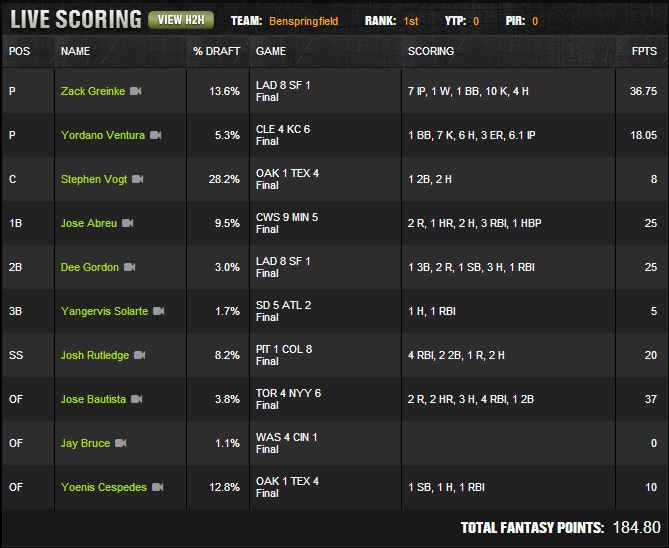 Pitchers (P) – Pitchers were Zack Greinke, Los Angeles Dodgers (13.6% owned) and Yordano Ventura, Kansa City Royals (5.3% Owned). Greinke is a strikeout king who was still reasonably priced this Friday making it a great play. At only 5% owned Ventura was a much tougher play but pitching at home, his cheaper price and given his propensity for strike outs most likely make it a lean worth risking.
Catcher (C) – Catcher was Stephen Vogt, Oakland (28.2% Owned). Oakland has been giving there catchers great hitting slots in the lineup all year and both Stephen Vogt and Derek Norris have been reaping the rewards. Never too high priced and always high and well protected in a stacked Oakland lineup you can always count on A's catchers for solid daily fantasy sports outings and this Friday was no different. Also when you see %'s owned this high on a Friday you can almost be assured there was a batter vs pitching matchup that made Vogt an even stronger play then usual.
First Base (1B) – First baseman was Jose Abreu, Chicago White Sox (9.5% Owned). The major League leader in home runs and one of the best hitters in the game there is not much that needs to be said for this selection. The interesting note here is that Abreu was under 10% owned on a Friday night which might put him in a favorable for future plays.
Second Base (2B) – Second baseman was Dee Gordon, Los Angeles Dodgers (3% Owned). One of the fastest players in baseball and rarely heavily picked. At 3% owned your scoring daily fantasy points while your opponents are not with Gordon. One of the best leadoff hitters in baseball with a low ownership rate is always a solid look.
Third Base (3B) – Third baseman was Yangervis Solarte, San Diego Padres (1.7% Owned). Freshly traded from the Yankees this play might be an attempt to catch someone in a new league, on a new team getting on a hot a streak. It will be interesting to watch how Solarte performs in San Diego for the rest of the year and will be a fantasy player we will surely want to keep our eyes on, especially if he pops up on more winning daily fantasy sports lineups.
Shortstop (SS) – Shortstop was Josh Rutledge, Colorado Rockies (8.2% Owned). Helping fill in for the injured Troy Tulowitzki the offensive slack will need to be picked up other places in the Rockies lineup and Rutledge just might be one of the guys to help do it. As one of the better power hitting shortstops and with Tulo on the 15 day disabled list this might be a great play for the next week or so.
Outfielders (OF) – Outfielders were Jose Bautista, Toronto Blue Jays (3.8% Owned), Jay Bruce, Cinccinatti Reds (1.1% Owned) and Yoenis Cespedes, Oakland A's (12.8% Owned). Interesting that the lowest owned player on the team 1.1 Jay Bruce happened to also be the only player not to score any fantasy points. It was a tough pitching match up for Bruce and the Reds and this might have been the one weak spot in the lineup and it showed. On the other sides of the diamond Bautista had an unbelievable night which he is always more then capable of and Cespedes more then held his own with an average night for him so Bruce's lack of output was more then made up for with some super strong picks.
Draft Kings player "Benspringfield" seemed to favor a highly varied mix stack that focused on big star hitters with great lineup spots. By not picking the highest priced pitchers on the market there was extra money to spend and that cash was well spent mostly on big bats. It was a great job of daily fantasy sports team building this week by "Benspringfield" in the Friday Draft Kings $2 MLB Moon Shot (18k) and really highlights the diversity of strategies that can take home the top prize on any given daily fantasy sports night. If you had to make a freestyle stack what areas would you use your daily fantasy sports salary for? Do you like to build your daily fantasy sports lineups around pitching or hitting?
Your turn to mimic Benspringfield.  Hit some fantasy action so we can analyze your picks.
This Week In Baseball History:
On July 26, 1948, an ill Babe Ruth made his last public appearance while attending the film premiere of "The Babe Ruth Story." The 53-year-old Hall of Famer would fall victim to throat cancer only three weeks later on Aug. 16 in New York City. Ruth's final appearance at Yankee Stadium was on June 13, 1948 when the team retired his #3 jersey and uniform.