Strategies
The Fantasy Baseball Hero: Masahiro Tanaka
What an unbelievable season Masahiro Tanaka is having thus far. The question remains whether he will be able to continue his dominance in the second-half of the season when teams start making adjustments to his style. He simply had ridiculous numbers in the Japanese Professional Title going 24-0 with a 1.27 ERA last year. He led the Tohoku Rakuten Golden Eagles to the title going 6-0 in the playoffs. This season he is 6-0 with a 2.17 ERA and his strikeout-to-walk ratio is 66:7 in 58 innings pitched. He is simply a winning machine. Can he actually maintain this form? He has not lost in two years.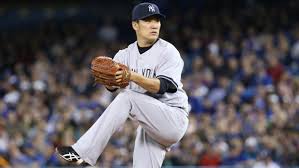 Tanaka's command is impeccable and his poise on the mound is second to none. It's not the speed of his pitches but his ability to control where it goes that makes him a unique breed. His go-to pitch is his split-finger fastball which often puts away hitters. Many pitchers try to use different pitches to expand the strike zone or try and get hitters to chase bad pitches. Tanaka has the ability to get outs by pitching in the strike zone. He can put away hitters with his location in the strike zone. His movement, deception, speed change, and ability to throw any pitch when he wants has allowed him to be successful.
In Japan, pitchers generally make one start a week. Fatigue may catch up to him and will probably lose a game or two before the season ends. Batters will make adjustments to the way he pitches, but his consistency is remarkable and will play a key role if the Yankees want to make the playoffs.