Strategies
Matt Wieters and the Baltimore Orioles

The Playboy Fantasy Baseball Championship (#PFBC) will be on August 23rd. The #PFBC is your chance to win an all expenses paid trip to LA to compete for $200,000 at the Playboy Mansion.
Unfortunately for the Orioles, Matt Wieters will miss the rest of the season after undergoing Tommy John surgery. This is a serious injury, but not one that will devastate the Orioles playoff hopes. Although he has two All-Star appearances and a respected reputation he's not a 'great' player. He got off to a good start this season going .308/.339/.500 but that was well above his career norm so it was not expected for him to keep up that pace for the rest of the year. He's a solid two way catcher and it's important to keep in mind that the other three catchers the Orioles have used (Clevenger, Joseph, and Hundley) have combined to hit .184 with no home runs and 12 RBIs. Wieter's injury hurts but there are other issues the Orioles have to resolve in order to catch the Jays.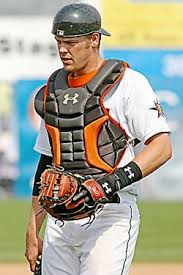 1. Manny Machado has to improve offensively and defensively. Last year he hit .283 with 14 home runs and a league-leading 51 doubles. He won the Gold Glove at third base and deservedly so, after having one of the best defensive seasons ever for a third baseman. As his knee continues to improve I expect him to get better at the plate. Defensively, he's making 3.07 plays per nine innings this year; he made 3.05 last year. His error rate is up but I expect it to improve as the season progresses.
2. Chris Tillman needs to start getting people out. He's supposed to be the number one starter but he's 5-4 with a 4.80 ERA. One game he pitches a shutout and the next he gives up eight runs. In his last start on Sunday he gave up three runs in seven innings but didn't record a strikeout. His strikeouts and home runs are down compared to last year but his hits and walks are up.
3. Chris Davis and J.J Hardy lack of power. The Orioles had the most home runs in the majors last season with 212. Davis hit 53 and Hardy hit 25. That was the foundation of their offence. They do not walk much so they rely on the long ball to provide offence for their club. The Orioles are on pace to hit 36 fewer home runs than last year and that's with Nelson Cruz playing the Chris Davis role with an MLB-leading 21.
4. Piece missing at second base: Second base is an issue and an upgrade in the form of Arizona's Aaron Hill may do the trick as the current second basemen are hitting .245 with a .289 OBP.
5. Ubaldo Jimenez is a wild card. His walk rate is 13.5%. What he has done over the past four season is indicative of the type of pitcher he is. Overall, the Orioles have some crucial flaws. They are too reliant on hitting home runs and they lack a number one starter. They have bullpen issues and are without their key catcher. The Orioles are 37-34 and will probably finish the season as a .500 team.