Strategies
Miguel Cabrera's Hot Swing
Miguel Cabrera continues to swing a hot bat while producing big for fantasy owners. Since his slow start in which we saw Cabrera pick up only 25 hits in his first 91 at bats the power hitting first baseman might be the hottest hitter in the league.
Cabrera is coming off back to back tremendous seasons, including a Triple Crown  in 2012 along with back to back MVP awards. That type of success didn't roll over in the first month of 2014 in which we saw Cabrera finish with only two home runs to go with 15 runs batted in. The other alarming stat for fantasy owners was Cabrera's five walks compared to his 18 strikeouts.
Luckily for fantasy owners is the fact that good hitters find a way to get it going and that has been the case for Cabrera since the start of May. In eight fewer games, Cabrera has picked up 24 hits, five home runs, 24 runs batted in and four walks in just 64 at bats. In the time frame Cabrera has been able to raise his batting average from .273 too .316 on the season. We have also seen his on base percentage rise from .313 too 408 and his slugging percentage from .407 too .703 over that stretch.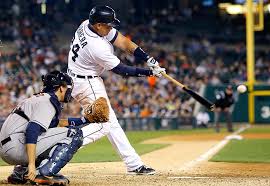 While it is hard to figure out what has changed for Cabrera at the plate it is easy to see how the reigning MVP has bounced back in the fantasy department. The key to his success in May compared to April is the amount of hit less games he has put up. In April Cabrera had seven games without a hit with only six multi hit games. In May Cabrera has only two games without a hit and six multi hit games. That has been the biggest difference.
Cabrera will enter tonight's matchup against the Cleveland Indians on a nine game hitting streak and back to back games with three hits. Cabrera gets a chance to continue his hitting streak against Corey Kluber. In 17 career at bats verse Kluber Cabrera has eight hits with three home runs and seven runs driven in.
Here are the next five pitchers Cabrera will face after Kluber:
–        Trevor Bauer, Cleveland Indians: Zero career at bats against him.
–        Zach McAllister, Cleveland Indians: Four hits in 16 at bats with two runs batted in.
–        Yu Darvish, Texas Rangers:Three hits in 14 at bats with two doubles and two runs batted in.
–        Robbie Ross, Texas Rangers: One hit in one career at bat.
–        Nick Martinez, Texas Rangers: Zero career at bats against him.
Despite his struggles against McAllister and Darvish in his career Cabrera is still a must start player in any fantasy league.