Strategies
MLB FanDuel Lineup for Monday July 25th 2016

The Monday MornIng Blues won't slow us down as we get set for another action packed night of MLB Fantasy action on FanDuel. Tonight's MLB lineup delivers us an 11 slate that features big name stars like Jake Arrieta, Noah Syndergaard, Mike Trout, Josh Donaldson and Manny Machado to build our daily fantasy lineup around.
As we start to put the numbers together today to build our FanDuel lineup tonight we continued to turn our main attention to the starting pitcher slot. At the top of that list is Arrieta who has averaged nearly 42 fantasy points for during the 2016 Major League Baseball Season.
After struggling in three straight starts, Arrieta bounced back on in his last outing against the New York Mets. The Chicago Cubs ace struck out eight New York Mets hitters over seven innings to post his first 40 point fantasy performance since the middle of June.  Tonight he will look to continue that success against a Chicago White Sox team that he has held to just a .224 career batting average over 76 career at bats.
Another name that we like tonight on the mound is Aaron Sanchez of the Toronto Blue Jays. The Jays hurler has posted at least 40 fantasy points in six of his last ten games. While Sanchez has struggled at home this season, he has been dominant against the National League allowing just 15 hits over 22 innings of work while pitching to a 1.23 earned run average.

Here is who we like around MLB on FanDuel for Monday July 25th, 2016
FanDuel Hitters We Like On Monday July 25th, 2016
David Ortiz, Boston Red Sox: The Aging Veteran continues to mash for his fantasy owners this season. That success continued over the weekend as Ortiz posted games of 28.4 and 35.2 fantasy points. Tonight he has a very favorable matchup against Justin Verlander who he has 11 career hits off of in 29 at bats with two of those hits going for home runs.
Albert Pujols, Los Angeles: If you are looking to save a few bucks from Ortiz, Pujols might be a solid candidate at first base. The Angels star is 4 for 11 lifetime against Ian Kennedy with three career home runs. Add that with the fact Kennedy is tied for the league league in home runs allowed this year makes Pujols along with his teammates a great fantasy option tonight.
FanDuel Pitchers We Like On Monday July 25th, 2016
Aaron Sanchez, Toronto Blue Jays: For us we can't look past the Blue Jays starter despite rumors of him possible landing in the bullpen and his struggles at the Rogers Centre. When you see his splits against National League teams this year that is all we need to write him in our FanDuel MLB Lineup.
FanDuel Sleepers We Like On Monday July 25th, 2016
Jarred Cosart, Miami Marlins: While looking for a few FanDuel sleepers we landed on the Miami Marlins starter who will be making his first appearance in the Majors since June. That being said, Cosart will face off against a struggling Philadelphia Phillies team that has had a difficult time putting runs on the board this season.
The Stack List for Monday July 25th, 2016
Albert Pujols, Mike Trout & Johnny Giavotella: Looking at matchups turned us to the Angels lineup tonight as they will face off against Ian Kennedy. Entering tonight Kennedy is tied for the league lead in home runs allowed with 26 and has allowed at least two home runs in five of his last nine starts.
Other Stacks we like include Edwin Encarnacion/Troy Tulowitzki/Kevin Pillar & Chris Davis/Mark Trumbo/Caleb Joseph.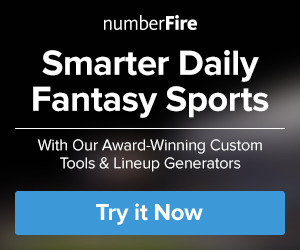 Conservative Lineup
SP – Aaron Sanchez ($9,600)
C – Victor Martinez ($2,900)
1B – Albert Pujols ($3,800)
2B – Devon Travis ($2,700)
3B – Adrian Beltre ($3,200)
SS – Troy Tulowitzki ($2,800)
OF – Nomar Mazara ($2,900)
OF – Mark Trumbo ($3,300)
OF – Khris Davis ($3,700)
Swinging For The Big Pay Day Lineup
SP – Jarred Cosart ($5,900)
C – Jett Bandy/Carlos Perez ($2,000)
1B – Edwin Encarnacion ($4,800)
2B – Johnny Giavotella ($2,500)
3B – Kris Bryant ($4,800) or Manny Machado ($4,000)
SS – Troy Tulowitzki ($2,800)
OF – Giancarlo Stanton ($3,100)
OF – Mike Trout ($4,100)
OF – Ian Desmond ($5,000)