Strategies
MLB: From Brandon Morrow to Mariano Rivera
Bad news for the Toronto Blue Jays as Brandon Morrow was placed on the 60-day disabled list and may require season-ending finger surgery. The club can pick up the $10 million dollar option for next season, but is he worth it ? Due to the fact that he is injury prone, the Jays and Morrow need to decide if it is best to be a reliever or starting pitcher. To be a starter you must have stamina and durability. You have to be able to take the ball every five days and perform and there are different demands compared to being a reliever. It's clear that he is not healthy enough to be a starter since he has made only 30 starts once in his career. This has put strain on the Jays' rotation because their replacement has never been as good as Morrow. The club needs to address the depth issue and that is one of the reasons why. If his role was altered and he became a reliever he would pitch in shorter spurts and can bounce back day-to-day while maintaining his stuff. At the moment, Morrow has been mentally draining for manager John Gibbons.
Brandon Morrow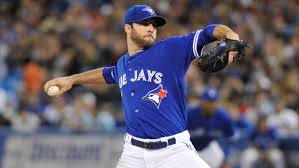 Being a reliever would be better for Morrow. Physically he can't cope with being a starter, and it would be best to sustain his career. He lacks in aggression and confidence and has walked 17 batters in 27 innings. His fastball ranged from 90-93 MPH against the Pirates because he was pacing himself. His counterpart, Garret Cole threw 95-97 MPH and attacked the batters. As a reliever Morrow could simplify his secondary pitches and can up his aggression.
If I were Alex Anthopoulos, I would not exercise that option since it is too much of a risk to take. Instead I would offer Morrow a reliever's salary with bonuses based upon how many games played. A pay-for-play type deal might be on the cards.
In other news, Mariano Rivera created some controversy when he mentioned in his book that he would take Dustin Pedroia over his former teammate Robinson Cano in a must-win game. Everyone knows drama and conflict help to sell books, but is Rivera right in his assessment ? Known for his class and sportsmanship it is unlike Rivera to make such a statement and might have gotten caught in the media trap. Rivera began by mentioning how talented Cano is. No one can doubt his talent, but Rivera states that he doesn't have the fire or passion to be a hall-of-famer. His desire to win gets questioned because of his demeanour on the field. Rivera's evaluation of Pedroia is spot-on. He goes hard all the time and never lets up. He says, "It's a special thing to see.  If I have to win one game, I'd have a hard time taking anybody over Dustin Pedroia as my second baseman."
Rivera was right on both players, but is so uncharacteristic of Rivera to criticize a fellow professional that it makes it wrong.