Strategies
NBA FanDuel Lineup for Friday January 27 2017

The NBA bounced back with a heavy 10 Game Slate to tip off what looks to be an action packed weekend of basketball. Tonight's slate looks to deliver a full array of top Daily Fantasy Basketball Options to build are team around including a chance to build around nine players who are averaging more than 40 fantasy points a game.
At the front of the top tier options sits LeBron James as he enters what looks to be a premier fantasy matchup against a very bad Brooklyn Nets team. In a meeting back on January 6th, James scorched the Nets for 36 points, nine rebounds and six assists in Brooklyn while finishing with 56 fantasy points on FanDuel.
James isn't the only Fantasy Option we like in this contest as you could look to Kyrie Irving and Kevin Love as other top tier options. Meanwhile someone like Iman Shumpert or Kyle Korver could both be a fantasy sleeper type play especially if this game becomes a blowout early leading to some rest for the Big Three.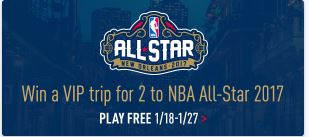 Overall you should be able to find a ton of value on both the high side and low side in tonights slate of NBA Contests. Here are our Daily Fantasy Basketball Options we like for Friday Janaury 27th, 2017.
Point Guards – Kyrie Irving & Isaiah Thomas
In the end despite seeing some real value at the point guard position we love the idea of pairing up Irving and Thomas tonight against some very favorable matchups. In previous matchups against the Nets, Irving finished with 32 point while coasting to a 45 point fantasy night. Thomas on the other hand continues has not posted less than 44 fantasy points in four straight games. As far as options that could save you some cap space Tony Parker or Patty Mills depending on the injury update.
Top Tier Fantasy Option We Like: John Wall & Kyle Lowry (if DeMar DeRozan is out)
Mid Tier Fantasy Option We Like: Elfrid Payton
Fantasy Sleeper Option We Like: Matthew Dellavedova
Shooting Guards – Sean Kilpatrick & Tyreke Evans
Going all in on three top tier fantasy options left us looking for some value at a few of the positions including the shooting guard position. This is where Kilpatrick and Evans came in as they both provide that big time fantasy threat while providing us with salary cap space. For Evans his value is even higher if Anthony Davis misses tonight's contest against the San Antonio Spurs. Another option we like if you sub in Payton for either Irving or Thomas you could upgrade to Nicolas Batum as a solid option.
Top Tier Fantasy Option We Like: James Harden
Mid Tier Fantasy Option We Like: Bradley Beal
Fantasy Sleeper Option We Like: Tim Hardaway Jr
Small Forwards – LeBron James & DeMarre Carroll
In the end we debated going with James Harden at the shooting guard position but with the matchup James has against the Nets he is just to hard to pass up on. Meanwhile Carroll continues to be a solid threat with DeMar DeRozan while providing some salary cap space. Caroll has posted over 22 fantasy points in two of his last three games.
Top Tier Fantasy Option We Like: Paul George
Mid Tier Fantasy Option We Like: Aaron Gordon
Fantasy Sleeper Option We Like: Solomon Hill
Click HERE to join FanDuel's $350K Fri NBA Shot Today!
Power Forwards – Terrence Jones & Ersan Ilyasova
As the news continues to favor that Anthony Davis will miss tonights game Jones continues to ride up the board of players that must start. While he delivers in the 20 plus range on most nights, Jones does have that ability to post a big time performance much like his 59 point effort just a few nights ago. Meanawhile Ilyasova should be able to capitalize against a Houston Rockets team that ranks fourth in the NBA in fantasy points allowed to opposing power forwards.
Top Tier Fantasy Option We Like: Kevin Love
Mid Tier Fantasy Option We Like: Kristaps Porzingis & Serge Ibaka
Fantasy Sleeper Option We Like: Montrezl Harrell
Center Option – Guillermo Hernangomez
Cousins is high on our radar for tonight's slate as well but with money going to the point guard and small forward positions it limits us. This is where someone like Hernangomez comes into place carrying a price tag under the $5k mark while also offering an upside. Over his past four starts, the Knicks center has three games over the 30 point fantasy mark.
Top Tier Fantasy Option We Like: DeMarcus Cousins & Marc Gasol
Mid Tier Fantasy Option We Like: Clint Capela
Fantasy Sleeper Option We Like: Spencer Hawes (If Cody Zeller is Out)